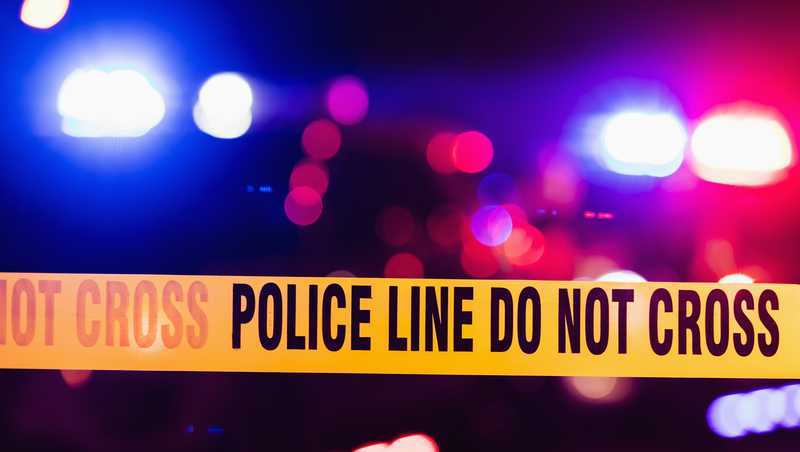 Police: 1 person dead after Ocala shooting
IT'S GOING TO IMPACT YOUR FRIDAY NIGHT PLANS. ALL STRAIGHT AHEAD. DETECTIVES ARE TRYING TO FIND MORE POTENTIAL VICTIMS OF AN ORLANDO MAN WHO THEY SAY IS A SERIAL SEXUAL PREDATOR. THE FLAGLER COUNTY SHERIFF'S OFFICE SAYS THEY FOUND VICTIMS IN THREE CENTRAL FLORIDA COUNTIES. WESH 2 NEWS MARLEI MARTINEZ IS JOINING US LIVE NOW IN THE STUDIO WITH HOW THEY TRACK THEM DOWN MARLEI. IT WAS THROUGH SOCIAL MEDIA, THE TIKTOK AND SNAPCHAT. LAW ENFORCEMENT SAYS BASED ON THE SUSPECT'S ACCOUNTS, THEY KNOW OTHER VICTIMS ARE OUT THERE. PELFREY IN SAINT FORD, ALSO KNOWN AS FRANNIE, IS NOW IN JAIL. THIS GUY IS A SERIAL PREDATOR PREYING ON YOUNG FEMALES AND PRETENDING HE'S MUCH YOUNGER THAN HE IS. ACCORDING TO THE FLAGLER COUNTY SHERIFF'S OFFICE, THE 25 YEAR OLD FROM ORLANDO HAD SEXUAL RELATIONSHIPS WITH GIRLS BETWEEN THE AGES OF 13 AND 16, BUT TOLD THEM HE IS 17 OR 18. LEADING GIRLS TO BELIEVE THEY WERE DATING. AND THEN FORCING THEM INTO SEXUAL ACTS. SHERIFF RICK STALY SAYS IT USUALLY STARTED ON SOCIAL MEDIA. THE PREDATORS AREN'T HANGING OUT AT SCHOOL. BUS STOPS ANYMORE. THIS IS THE MODERN ERA OF SEX PREDATORS. AND AND YOU CAN HELP PREVENT YOUR CHILD FROM BECOMING A VICTIM. COME BACK TO ME. LAW ENFORCEMENT STARTED INVESTIGATING SAINT FORD IN MARCH AFTER THEY SAY HE TRIED TO FLEE DURING A TRAFFIC STOP. INVESTIGATORS BELIEVE HE WAS HEADING TO AN UNDERAGE GIRLS HOME AT THE TIME. ACCORDING TO THE SHERIFF'S OFFICE, HE NOW FACES MULTIPLE CHARGES OF UNLAWFUL SEXUAL ACTIVITY WITH A MINOR IN OSCEOLA COUNTY AND LEWD OR LASCIVIOUS BATTERY IN FLAGLER COUNTY. THEY SAY CHARGES ARE PENDING IN ORANGE COUNTY. THERE ARE MULTIPLE OTHER GIRLS THAT HE WAS MESSAGING WITH THAT I'M NOT SURE OF THEIR AGES. I'M NOT SURE OF ANY IDENTIFY INFORMATION OF THEM. BUT IT'S CLEAR THAT THEY DID MEET. LAW ENFORCEMENT URGES ANY OTHER POTENTIAL VICTIMS TO COME FORWARD. AND UNFORTUNATELY, THEY'RE NOT ALONE. IT'S VERY DIFFICULT TO COME THROUGH. I'M SURE A LOT OF THEM ARE PROBABLY NERVOUS TO LET THEIR PARENTS KNOW THAT THEY WERE MEETING WITH AN ADULT. NOW THEY KNOW THAT HE'S AN ADULT, BUT IT'S OKAY. WE ARE HERE TO HELP THEM WALK THROUGH THE PROCESS AND EXPLAIN TO THEM THE PROCESS. AND NOW THEY KNOW THAT THEY'RE THEY'RE SAFE. SO FAR, LAW ENFORCEMENT FOUND TWO VICTIMS IN FLAGLER COUNTY, ONE IN ORANGE AND ONE IN OSCEOLA, MICHELLE STEWART. ALL RIGHT. THANK YOU SO MUCH. MARLEI. WE'RE GOING TO TALK ABOUT OUR FORECAST NOW. IT WAS DEFINITELY A BREEZY DAY AND NOW WE HAVE SOME FAST MOVING SHOWERS. CHIEF METEOROLOGIST TONY MAINOLFI JOINS US NOW. TONY, IT FEELS A LITTLE BIT LIKE FOOTBALL WEATHER OUT THERE. YOU KNOW, IT DOES AND IT IS. AND WE HAVE A FEW SHOWERS OUT THERE THAT MAY HIT 1 OR 2 OF THE GAMES. BUT I THINK OVERALL WE'RE GOING TO BE IN PRETTY GOOD SHAPE. YOU SAW THE CLOUDS IN OUR TOWER CAM SHOT. THAT'S BECAUSE OF THAT BIG HIGH TO THE NORTH. YOU GET THIS ONSHORE FLOW OF AIR SOMETIMES GUSTING OVER 25 MILES AN HOUR. AND THAT'S GOING TO PULL IN THAT ATLANTIC MOISTURE IN THE FORM OF THOSE SHOWERS. LET'S BEGIN UP HERE TOWARDS PALM COAST MARINE LAND THAT'S BEEN KIND OF COMING IN AND OUT THROUGHOUT THE COURSE OF THE AFTERNOON SINCE I'VE BEEN HERE AT THE STATION LAST SHOT OF RAIN HERE DEPARTING OUT OF SOUTHWESTERN MARION COUNTY. THE SHOWERS THAT WERE NEAR LAKE APOPKA ARE BEGINNING TO WIND DOWN, DOWN A COUPLE SPRINKLES HERE ACROSS FAR SOUTHERN BREVARD COUNTY. SO, AGAIN, THE SHOWERS MAY TRY TO REDEVELOP ALONG THE COAST, BUT THE TEMPERATURES ARE QUITE NICE OUT THERE. UPPER 60S, LOW 70S TO THE NORTH, MIDDLE 70S IN TOWN. NOTICE THE WINDS AT ABOUT 5 TO 15 MILES AN HOUR. SO IF YOU'RE HEADING OUT TO A FOOTBALL GAME TONIGHT, BIG ONE HERE BETWEEN THE RAMS AND THE BUCCANEERS, CLOSER TO THE COAST MAY HAVE A SHOWER OR TWO HERE. OTHERWISE THOSE INLAND GAMES RIGHT NOW ARE LOOKING PRETTY GOOD. MORE ON THAT AND ALL OF THOSE OUTDOOR EVENTS FOR THE WEEKEND WHEN I SEE YOU COMING UP AT 618 TO GET THE LATEST FORECAST FROM OUR TEAM OF FIRST WARNING METEOROLOGIST DOWNLOAD THE WESH TWO NEWS MOBILE APP. TURN ON THOSE ALERTS FOR BREAKING UPDATES ON SEVERE WEATHER. SHERRY FITZPATRICK WILL SPEND THE NEXT TEN YEARS IN PRISON AFTER A SURPRISE PLEA DEAL AS HER MURDER TRIAL WAS WINDING DOWN. WESH 2 DAVE MCDANIEL HAS THE EVENTS IN COURT AND WHY THE RESULT FELL SHORT OF WHAT MANY IN THE VICTIM'S FAMILY HAD HOPED FOR. OUR DAUGHTERS WON'T HAVE THEIR DAD TO WALK THEM DOWN THE AISLE WHEN THEY MARRY A VICTIM. IMPACT STATEMENT DELIVERED SOONER THAN ANYONE EXPECTED AS TO THE OFFENSE OF SECOND DEGREE MURDER, THREE CLASSIFIED AS A LIFE FELONY. HOW DO YOU PLEAD? GUILTY. 58 YEAR OLD SHERRI FITZPATRICK FACED THE POSSIBILITY OF LIFE IN PRISON, BUT AFTER A COUPLE OF HOURS OF ATTORNEYS AND FAMILY MEETINGS OUTSIDE THE COURTROOM, A PLEA DEAL. GUILTY TO SECOND DEGREE MURDER. TEN YEARS. SHE IS A COLD, HEARTLESS PERSON WHO NEEDS TO SPEND THE REST OF HER PATHETIC LIFE IN PRISON. BUT I KNOW THAT IS NOT HAPPENING NOW. THIS IS KIND OF A SLAP ON THE WRIST FOR HER AND KIND OF A SLAP IN THE FACE FOR EVERYONE ELSE. SHE'S A SAVAGE, COMPLETE SAVAGE. YOU'RE NOT EVEN A MONSTER. MONSTERS AREN'T. AREN'T REAL. SAVAGES ARE. TIMOTHY FITZPATRICK WAS SHOT AND KILLED LATE JULY 2021, IN THE HOME HE AND HIS WIFE SHARED. THERE HAD BEEN A LENGTHY ARGUMENT. THEN TWO GUNSHOTS KILLING TIMOTHY. THE DEFENSE HAD SAID THAT THEY WOULD BE ARGUING THIS AS A SELF-DEFENSE CASE, THAT SHERRI FITZPATRICK HAD BEEN THE VICTIM OF ABUSE IN THE MARRIAGE. THEY SHARED NEW PHOTOS WITH THE STATE, IMAGES OF HER BATTERED AND BRUISED FACE WERE SHOWN TO THE PROSECUTION THAT THEY DIDN'T BELIEVE EXISTED. A DEAL WAS STRUCK, ONE WHERE ATTORNEYS FELT IT WAS BEST FOR ALL. WE BELIEVE FIRMLY IN OUR CLIENT'S DEFENSE, BUT IN LIGHT OF THE FACT THAT, YOU KNOW, SHE'S FACING LIFE IN PRISON AND THE CIRCUMSTANCES WERE WHAT THEY WERE, THIS WAS, YOU KNOW, SOMETHING THAT SHE FELT WAS IN HER BEST INTEREST. ALL PARTIES LEAVING SOMEWHAT FRUSTRATED IN MY OPINION. IT IS UNFORTUNATE THAT SHE HAS TO SERVE ANY TIME BEHIND BARS AT ALL BECAUSE SHE SUFFERED ALMOST A DECADE OF TORTURE AND ABUSE BY A TERRIBLE HUMAN BEING. EVEN THOUGH OUR JUSTICE SYSTEM COULDN'T GIVE HER THE JUSTICE SHE TRULY DESERVED. I BELIEVE KARMA IS REAL AND IT WI
Police: 1 person dead after Ocala shooting
ABOVE: A look at the top storiesA deadly shooting in Ocala is under investigation.Ocala police said they were notified of a shooting near a Burger King on Silver Springs Boulevard. One victim died after being taken to the hospital, according to police. The victim has not been identified. Anyone with information is asked to call Ocala police at 352-369-7000.Top headlines: Crews make progress on groundbreaking Orlando theme park Epic Universe Bear gobbles up Halloween candy in Central Florida neighborhood Millions of dollars in fines that could have been reinvested in I-4 will not be collected
MARION COUNTY, Fla. —
ABOVE: A look at the top stories
A deadly shooting in Ocala is under investigation.
Ocala police said they were notified of a shooting near a Burger King on Silver Springs Boulevard.
One victim died after being taken to the hospital, according to police. The victim has not been identified.
Anyone with information is asked to call Ocala police at 352-369-7000.
Top headlines: