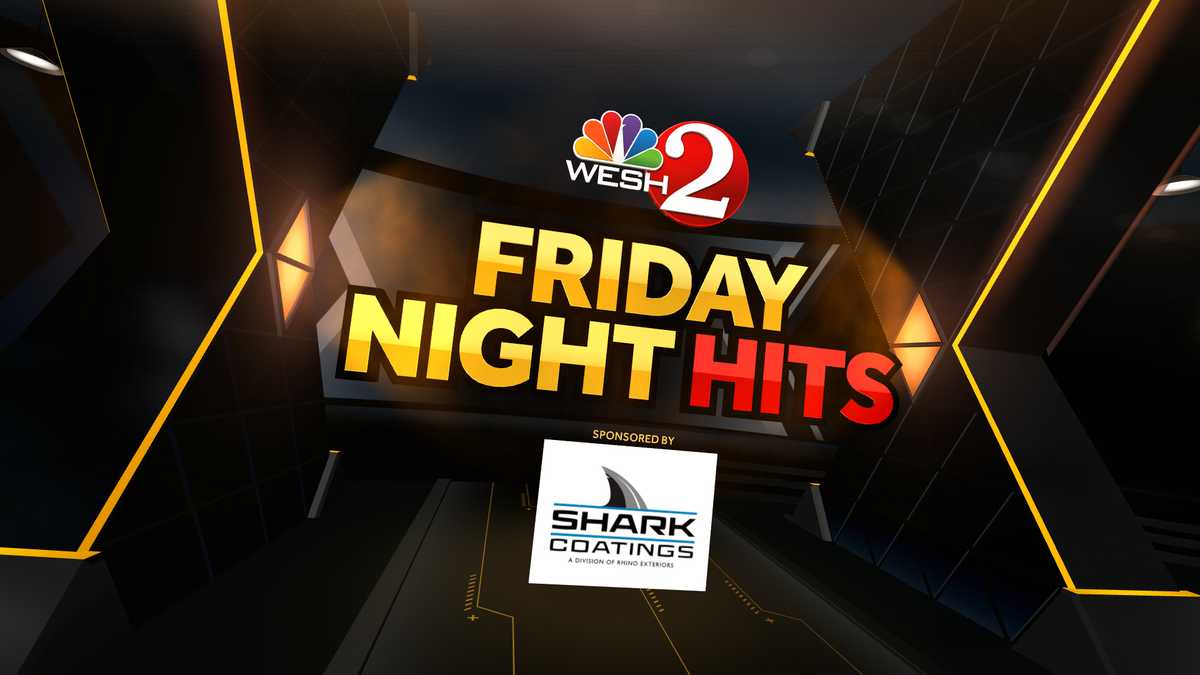 Friday Night Hits: All game recaps and scores
IT IS FALL. IT IS FOOTBALL. IT IS A FRIDAY NIGHT HITS. I'M KRISTEN LAGO WITH ZACH MASKAVICH. DAREN STOLZFUS HAS THE NIGHT OFF AND ZACH THE RAIN. THANKFULLY STAYED AWAY. THE TEMPERATURES DROPPED. IT SORT OF FELT LIKE FOOTBALL SEASON. YEAH. IN FLORIDA WHEN IT STARTS TO FEEL A LITTLE BIT COOLER, THAT'S WHEN YOU KNOW THE GAMES ARE REALLY STARTING TO MATTER. PLAYOFF POSITIONING CHANGES EVERY WEEK AND ONCE AGAIN TONIGHT, WE HAD SOME BIG TIME BATTLES. YES, YOU CAN SAY THAT ONE AGAIN, INCLUDING IN OUR GAME OF THE WEEK, THE WESH.COM POLL PICKED IT. IT WAS NEW SMYRNA BEACH MAKING THE SHORT TRIP TO SPRUCE CREEK AND TO PORT ORANGE WILL GO FOR THE HIGHLIGHTS FROM THAT ONE. SPRUCE CREEK. LOOKING TO BOUNCE BACK AFTER LAST WEEK. THE HAWKS LOOKING GOOD HERE. LUKE SMITH HITS CAM OXENDINE AND LOOK AT THE WHEELS FROM OXENDINE. NOBODY CATCHING HIM. HE MAKES IT LOOK EASY LEE ON THE LONG TOUCHDOWN. BUT THIS ONE NEEDED OVERTIME. I'VE BEEN LOOKING FOR AN OVERTIME EXTRA PERIOD WILL GO SMITH FINDS CAM CAMPBELL FOR THE TOUCHDOWN HAWKS BACK IN FRONT BUT THE CUDAS WILL GET A CHANCE TO RESPOND THEY GO TO THE BAG OF TRICKS HERE THE REVERSE TO NICK DELUCIA AND HE'S LOOKING TO THROW FINDS BRETT RAYMOND SNYDER IN THE END ZONE. KUDOS WILL GO FOR TWO AND WIN IT BUT THEY WON'T CONVERT IT THERE SPRUCE CREEK GOING TO WIN IT IN OVERTIME 2928 THE FINAL FROM OUR GAME OF THE WEEK. THAT ENDED UP BEING A GOOD ONE. THAT CERTAINLY WAS A GOOD ONE. THE FANS DID A GOOD JOB PICKING THAT GAME. NOW LAKE MARY ABSOLUTELY CRUISED THROUGH THE FIRST SEVEN GAMES OF THEIR SCHEDULE, SO FAR THIS YEAR. THE RAMS A PERFECT SEVEN AND OH, WINNING EVERY GAME BY DOUBLE DIGITS WITH AN AVERAGE MARGIN OF VICTORY JUST NORTH OF 28 POINTS. BUT TONIGHT THEY HIT THE ROAD TO APOPKA. COULD THAT VAUNTED BLUE DARTER DO ANYTHING TO SLOW DOWN THE RAMS? I TELL YOU WHAT, JEFF ROLSTON AND COMPANY, THEY LOOK TO BE UP TO THE TASK EARLY ON IN THIS ONE. PICK UP THE ACTION FIRST QUARTER RAMS UP BY SEVEN ON FOURTH DOWN NOAH GRUBBS ON THE PLAY FAKE AND UH OH IT'S PICKED OFF MALACHI DAVIE WITH NOTHING BUT GREEN GRASS IN FRONT OF HIM AND NOBODY IS GOING TO CHASE DOWN NUMBER ONE FROM BEHIND. THAT'S A LONG PICK. SIX IT WOULD TIE THINGS UP AT SEVEN EARLY ON. THE ENSUING RAMS POSSESSION, THOUGH, ISAIAH THOMAS TAKES THE HAND OFF AND MAKES A CUT AND HE IS GONE. HIS SECOND TOUCHDOWN OF THE FIRST HALF AND HE WOULD NOT BE DONE THERE. BUT APOPKA, THEY WEREN'T DONE EITHER. HOW ABOUT THIS? THE INSIDE HANDOFF GOES TO MARCUS GRANT JR. HE GOES RIGHT UP THE GUT, TAKES IT TO THE HOUSE. THAT NUMBER 14 PUT THEM UP BY 14. BUT THEN THE RAMS STARTED TO PULL AWAY LATE IN THE FIRST QUARTER. A LITTLE LATER, THE HANDOFF GOES BACK TO THOMAS. HOW ABOUT THIS? ANOTHER ONE OF HIS FOUR TOUCHDOWNS OF THE DAY. LAKE MARY'S UNDEFEATED RUN CONTINUES ON. THE RAMS WIN BY THAT MAGIC NUMBER OF 2849 21, THE FINAL THAT'S THE RAMS FIRST WIN OVER APOPKA THIS MILLENNIUM. THEIR LAST WIN CAME IN 1999. A BIG NIGHT FOR THE RAMS. THAT'S A FUN FACT. THERE YOU GO. OUT TO WINTER GARDEN, WE GO EDGEWATER LOOKING TO REMAIN UNDEFEATED. IT WAS ALL EAGLES IN THIS ONE. KADEN SHIELDS DUTTON, HE'S GOING TO BULLY HIS WAY INTO THE END ZONE. HE WON'T BE DENIED DENIED. THAT MADE IT 31 NOTHING IN THE SECOND QUARTER HORIZON, JUST NOT ON THE SAME PAGE HERE. WATCH THIS. KALYN MEADOWS THROWS IT UP, BUT IT'S TWO NOTHING BUT WHITE JERSEYS. YOU WON'T SEE AN INTERCEPTION MUCH EASIER THAN THAT. EDGEWATER NOW NINE AND OH. ON THE YEAR AFTER A SHUTOUT WIN 45 NOTHING THAT FINAL EDGEWATER SOARING LAST TIME OUT DYLAN'S FIVE GAME WIN STREAK WAS SNAPPED AT SEMINOLE YEAH BUT BUT TONIGHT ANOTHER TOUGH TEST AS THEY WOULD HIT THE ROAD TO FACE UNIVERSITY ORANGE CITY, THE TITANS TRYING TO HANG ON TO AN UNDEFEATED RECORD. WILL IT STAY UNDEFEATED? I'LL FIND OUT WITH A WIN. JUSTIN ROBERTS AND THE TITANS WOULD HAVE ALSO CAPTURED THE DISTRICT TITLE HERE. BUT THE BULLDOGS JUST TOO FEROCIOUS TONIGHT. WE'RE PICKING THINGS UP IN THE SECOND QUARTER. DELAND UP BY SEVEN GROUND AND POUND THE NAME OF THE GAME FOR THEM THAT IS TJ MOORE ON THE KEEPER BULLDOG FORCES HIS WAY IN TO DOUBLE THE LEAD 14 NOTHING UNIVERSITY OFFENSE HAVING TROUBLE ALL NIGHT LONG LESS THAN THREE MINUTES LEFT IN THE HALF. THIS IS MALACHI WALTERS. HE'S HEAVES IT UP IT IS PLUCKED OUT OF THE AIR BY RAMIR GORDON WITH THE BIG INTERCEPTION BULLDOGS DEFENSE STIFLING THE TITANS AND IT IS DELAND OVER UNIVERSITY IN A CRUCIAL DISTRICT WIN 14 TO 3 WAS THE FINAL SCORE YEAH A LOW SCORING GAME THERE TO DOWNTOWN ORLANDO WE GO JONES PLAYING HOST TO THE WEKIVA MUSTANGS THE FIGHTING TIGERS LED BY 20 AT THE HALF AND THEY WOULDN'T LOOK BACK THIRD QUARTER THE FUTURE TEXAS LONGHORN DEANDRE ROBINSON MAKES HIS PRESENCE FELT HERE BIG NUMBER SIX COMES UP WITH THE SACK FOR JONES HOW ABOUT THE NEXT JONES POSSESSION THE FIGHT AND TIGERS ON THE DOORSTEP WHEN TREVOR JACKSON CALLS HIS OWN NUMBER FOR THE SHORT TOUCHDOWN THAT MADE IT 34 TO 7 IN THE THIRD QUARTER. BUT KRISTIN, THESE TWO TEAMS WOULD COMBINE FOR 62 POINTS IN THE FOURTH QUARTER ALONE. INSANITY. JONES HAS NOW WON FOUR IN A ROW. LOOK AT THAT FINAL 6841. THE FIGHTING TIGERS TAKE IT. THAT'S STILL UNBELIEVABLE TO ME. OKAY. HIGH ABOVE WEST ORANGE WILL GO. A WARRIORS WIN WOULD SET UP A DISTRICT CHAMPIONSHIP BATTLE WITH OLYMPIA NEXT WEEK. THEY GOT TO GET THROUGH. DOCTOR PHILLIPS FIRST. THIS ONE QUITE THE DEFENSIVE BATTLE FROM THE JUMP SCORELESS IN THE FIRST THAT'S WEST ORANGE QUARTERBACK JACK RILEY LOOKING FOR A WIDE OPEN TORI HOLLINGER THAT WOULD BE A TOUCHDOWN THERE BUT IT WAS DROPPED SAME DRIVE PUTTING THE PRESSURE ON RILEY UP FRONT, MAKING HIM UNCOMFORTABLE. THIS PASS ALMOST PICKED OFF BY THE PANTHERS DEFENSE A DEEP TOUCHDOWN THOUGH IN THE SECOND HALF IS GOING TO WIN IT PANTHERS UP OVER THE WARRIORS 10 TO 3 ALL RIGHT WE STAY IN CHOPPER TWO GOING HIGH OVER OLYMPIA HIGH SCHOOL. THE TITANS SITTING ATOP THEIR DISTRICT LOOKING FOR ANOTHER BIG WIN OVER FREEDOM PATRIOTS. WITH A LITTLE TRICKERY GONE WRONG, THAT'S RUNNING BACK CAMERON OLIVER. HE'S GOING TO HEAVE THIS ONE IN THE AIR, AND IT'S PICKED OFF BY THE TITANS. NICE GAIN ON THE RETURN THAT WOULD SET UP OLYMPIA WITH THE FOOTBALL. HOW ABOUT THE NEXT PLAY? THE TITANS GOING TO FIND JOSHUA EVANS? HE'S ONE ON ONE IN THE END ZONE. THAT'S A TOUCHDOWN. OLYMPIA'S OFFENSE HAVING THEIR WAY WITH THE PATRIOTS 40 POINT VICTORY 48 TO 8. THAT FINAL SCORE. OUT TO LONGWOOD NOW WE GO VITO PAYING A VISIT TO LYMAN. THE GREYHOUNDS GOING TO THE AIR EARLY IN THIS ONE ABOUT WILLIAM BURKE FOR THE GREYHOUNDS. HE'S GOING TO FIND DAVION JONES WIDE OPEN IN THE END ZONE. THAT'S A TOUCHDOWN RIGHT THERE. BUT A VITO GOING TO ONE UP LYMAN HERE JACKSON LATER HE'S LOOKING FOR MARQUETTE WILLIAMS. WILLIAMS GOING TO DO THE HARD PART HERE. MAKES THE CATCH. AND WATCH THIS KHERSON SPINS OUT OF A TACKLE. LOOK AT THAT ONE. AND THE REST IS EASY. FROM THERE, NOBODY'S GOING TO CATCH HIM. THAT MADE A 35 TO 14 IN FAVOR OF THE LIONS AND LATOUR AND WILLIAMS WERE NOT DONE THERE. THE TWO CONNECT FOR ANOTHER SCORE RIGHT HERE. VITO WITH A BIG ROAD WIN. THEY TAKE IT 4921. THAT FINAL. THAT WAS A GREAT GAME RIGHT THERE. OCOEE KNIGHTS LOOKING TO SNAP A THREE GAME, LOSING SKID TONIGHT, HITTING THE ROAD TO TAKE ON WINDERMERE OCOEE OFFENSE ON FIRE FRESH OFF THE TOUCHDOWN THAT IS NATHANIEL WORRELL WHO RUNS IT IN FOR THE TWO POINT CONVERSION NEXT. KNIGHTS POSSESSION JAKARI JACKSON FINDS TAVIAN GREAVES CUTS INSIDE AND LETS HIS SPEED DO THE REST. NO ONE'S CATCHING HIM. WE COULDN'T CATCH HIM. TOUCHDOWN! OCOEE THE KNIGHTS NEEDED A BOUNCE BACK WIN AND THEY GET IT DONE IN A BIG WAY. 52 TO 21 THE FINAL UP OVER THE WOLVERINES. ALL RIGHT. HOW ABOUT THE SEMINOLE? THEY WERE BACK AT HOME FOR SENIOR NIGHT. THE NOLES. THEY WERE ON THE ROAD, RATHER, TAKING ON A LAKE. BRANTLEY TEAM IN THIS ONE. HOW ABOUT THIS? CADEN SEQUOYAH LASKY. LOOK AT THAT PASS. THAT'S RIGHT. ON THE MONEY. THAT'S JUSTIN ROSADO. HE MAKES IT LOOK EASY. SPEEDS INTO THE END ZONE. THAT TOUCHDOWN IN FAVOR OF THE NOLES. AND THEY WERE ROLLING HERE. SEQUOYAH LASKY AGAIN LOOKING DEEP. LOOK AT THAT. DROPPING IT IN THE BREADBASKET FOR DAVID PARKS. AND HE WINS THE FOOT RACE TO THE END ZONE A LITTLE BIT LATER, THE NOLES AGAIN GOING TO THE AIR. IT'S SEEMINGLY NOT A SEMINOLE HIGHLIGHT WITHOUT A MICHAEL KEY TOUCHDOWN. YOU GET IT RIGHT THERE. ALL SEMINOLE IN THIS 148. NOTHING ON THE ROAD OVER LAKE BRANTLEY. SOME OTHER SCORES FROM AROUND THE AREA. HOW ABOUT THE MASTERS ACADEMY? EAGLES. BIG WIN OVER OAK HILL TONIGHT. 4922, TOHO FALLS ON THE ROAD TO HARMONY 2314 THAT FINAL MORE SCORES COMING AT YOU LAKE NONA TAKING ON OAK RIDGE LAKE NONA WILL WIN IT 24 TO 6 IN CYPRESS CREEK, TAKING ON THE BOONE BRAVES. ANOTHER BIG ONE IN FAVOR OF BOONE. 69 TO NOTHING. ALL RIGHT. COMING UP, WE STILL HAVE TO HEAD TO THE SPACE COAST TO CHECK IN ON ONE OF THE BEST TEAMS IN THE STATE. YOU KNOW WHO WE'RE TALKING ABOUT HERE? IT'S NOT A SURPRISE. THE COCOA TIGERS. YEAH, THE COCOA TIGERS ARE ROLLING. BUT FIRST, HOW ABOUT THE JONES HIGH SCHOOL FIGHTING TIGERS BAND? TAKE US TO BREAK. 45. YOU NOTICE THE BAND MAKES THE LETTER J REPRESENTING JONES HIGH SCOL. WE GOT TO PROTECT THE BALL MORE. WE GOT TO WIN NEXT WEEK. IF WE GET A SHOT. YOU KNOW, WE REALLY GOT TO PLAY WELL AT HAGGERTY. WE CAN'T PLAY LIKE THIS, AND WE NEED THAT TO GET IN THE PLAYOFFS PROBABLY. SO WE REALLY GOT TO GO OVER THERE WITH A MISSION TO TRY TO GET A WIN. ALL RIGHT, EVERYBODY, WELCOME BACK. THAT WAS SPRUCE CREEK HEAD COACH. A LITTLE HAPPIER AFTER AN OVERTIME VICTORY. BRUTAL HONESTY. THEY'VE GOT ONE GAME LEFT, THE GANTLET. THEY GOT NO BYE WEEK UNTIL THE END OF THE SEASON. SO I APPRECIATE THE HONESTY. COACH PRICE. ALL RIGHTY. ON TO THIS. ACCORDING TO MAXPREPS, THE FHSAA AND WELL, PRETTY MUCH ANY OTHER STATEWIDE POLL YOU CAN FIND, THE COCOA TIGERS ARE THE HIGHEST RANKED TEAM IN CENTRAL FLORIDA. YEAH. AND SINCE THEIR LONE LOSS THIS SEASON, THAT REALLY SHOULD HAVE BEEN A WIN. THE TIGERS HAVE WON FOUR STRAIGHT GAMES BY A COMBINED SCORE OF LISTEN TO THIS, 122 TO 13. THAT'S DOWN YEAH I WOULD SAY IN SHORT, THE TIGERS HAVE BEEN YOU SAID IT DOWNRIGHT DOMINANT TONIGHT HOSTING ASTRONAUT AND WHAT A PERFECT NIGHT FOR SOME FOOTBALL IT WAS COCOA HOT OUT OF THE GATE. THIS IS THE OPENING DRIVE EAGLES PINNED DEEP ON THEIR 20. THAT PUNT IS BLOCKED. THE TIGERS WILL RECOVER. AND FROM THERE WATCH THE COCOA OFFENSE GO TO WORK. BRADY HART ROLLING AND HITS XAVIER CHAPELLE. HE DOES THE REST TAKES A BIG HIT THERE BUT HE'S IN FOR SIX THAT'S A TOUCHDOWN FOR THE TIGERS IN ENSUING POSSESSION HOW ABOUT SOME DEFENSE DAVONTE HUNTER IS PICKED OFF BY NATHAN CHASE ZINN WHO YES, YOU MAY HAVE GUESSED IT HERE. HE'S GOING TO GO ALL THE WAY. IT IS JUST ALL COMING UP COCOA TONIGHT TIGERS BY A LOT, 63 TO NOTHING. WHAT'S THE FINAL SCORE? YEAH, RON SCHNEIDER'S KIDS LOOKING GOOD TONIGHT FROM COCOA TO ROCKLEDGE WE GO WHERE THE RAIDERS HOSTED MERRITT ISLAND TONIGHT, ROCKLEDGE LED SIX NOTHING AT THE HALF. WE START THIRD QUARTER. TRAYVON GREEN SPOTS A WIDE OPEN. LORENZO BELL AND BELL GOING TO TROT IN THAT'S A 37 YARD SCORE THE RAIDERS DOUBLE THEIR LEAD AFTER THAT BUT MERRITT ISLAND SHOWING SOME HEART LITERALLY THAT'S SHAWN HARTMAN SEE WHAT WE DID THERE HARTMAN YEAH CALLS HIS OWN NUMBER. HE GOES UNTOUCHED. THAT'S A 43 YARD SCAMPER FOR THE SCORE. BUT THE COMBO OF GREEN AND BELL TOO MUCH. LOOK AT THIS BALL FROM GREEN. IT IS RIGHT ON THE MONEY ROCKLEDGE WITH A BIG WIN TONIGHT AT HOME BY 2033 13 THAT FINAL TO LAKE COUNTY. THE HAWKS OF LAKE MINNEOLA HAVE BOUNCED BACK AFTER A TOUGH SCHEDULE TO START THE SEASON AFTER LOSING THREE OF FOUR TO START THE YEAR. THEY'VE NOW WON FOUR STRAIGHT AND SINCE FALLING BY A FIELD GOAL AT MAINLAND, THEY HAVE WON FOUR STRAIGHT AND THEY'VE WON FOUR STRAIGHT ALL BY BLOWOUT GAMES. THAT'S THE WAY YOU WANT TO DO IT, RIGHT? YEAH. WHY NOT BACK UP THE CHOPPER TO WE GO HAWKS SOARING THROUGH DISTRICT PLAY TONIGHT WELCOMING IN THE FOREST WILDCATS OF OCALA LAKE MINNEOLA DRIVING EARLY. QUARTERBACK JACKSON HUGHES HANDS IT OFF TO DAYNE TOMPKINS. HE AVOIDS THE TRAFFIC JAM HE GETS INTO THE ENDZONE EXTRA POINT THOUGH NO GOOD WILDCATS FIGHTING BACK AND CHECK OUT THE WHEELS FROM THEIR QUARTERBACK VERNELL POLL TURNS IT ON THE JETS HERE IT'S A GAIN OF ALMOST 40 YARDS AND THEN AFTER THAT ONE THREE PLAYS LATER, YOU SEE IT HERE. IT'S A FOREST TOUCHDOWN. THE WILDCATS TAKE A ONE POINT LEAD, BUT LAKE MINNEOLA WILL GO ON TO COME BACK IN A HUGE WAY. A 33 POINT WIN, 6633. THAT FINAL. WE'VE GOT A LOT OF BIG WINS TONIGHT. STAYING WITH CHOPPER TWO, WE HEAD ON OVER TO WINTER PARK. THE WILDCATS HAVE BEEN PERFECT SO FAR THIS SEASON, LOOKING FOR WIN NUMBER EIGHT OVER COLONIAL SCORE IS 55 TO 6. WHEN WE ARRIVE IN CHOPPER TWO AND YOU MAY HAVE GUESSED IT IS ALL WINTER PARK IN THIS ONE COLONIAL TRYING TO MOUNT THE COMEBACK. BUT THEY ARE SWARMED BY THE WILDCATS D LINE FOR A LOSS. WINTER PARK GOING TO HAVE THE DAGGER COMING UP RIGHT HERE. GRANT CONNOR PITCHES IT TO JALEEL MILLER, WHO TAKES IT IN FOR THE TOUCHDOWN WILDCATS WITH ANOTHER BIG WIN TONIGHT. 62 TO 6. A LOT OF 60 BURGERS BEING PUT UP THIS FRIDAY NIGHT HIGH ABOVE OAK RIDGE HIGH SCHOOL. NOW THE LIONS OF LAKE NONA IN TOWN AND UP 21 TO 6 WHEN CHOPPER TWO GOT THERE IN THE FOURTH QUARTER. OAK RIDGE NEEDING A BIG COMEBACK. BUT THE LAKE NONA DEFENSE WITH ALL THE ANSWERS TONIGHT NOWHERE TO RUN FOR THE PIONEERS. A LITTLE BIT LATER IN THE SAME DRIVE THAT'S WHEN QUARTERBACK ZIMAN ROUNDTREE. HE'S GOING TO TRY TO GET IT DONE THROUGH THE AIR. BUT THIS ONE THAT'S GOING TO BE PICKED OFF, DALTON FALLON STEPPED UP AND CALLED IT RIGHT BEFORE THE GOAL LINE THERE. LAKE NONA WOULD ADD A FIELD GOAL LATE IN THIS ONE, 24 TO 6. YOUR FINAL SCORE THERE. AND WE'VE GOT SOME MORE SCORES COMING AT YOU. LAKE MARY WITH A 52 TO 30 WIN OVER MERRITT ISLAND CHRISTIAN SCHOOL. THE ATLANTIC SHARKS GOING TO TAKE A LOSS IN THIS ONE TO SEABREEZE, 36 TO 14 MORE SCORES FROM AROUND THE AREA. TAVARES FALLS TO MOUNT DORA ON THE ROAD 40 TO 7. THAT FINAL SCORE AND FLAGLER PALM COAST. LOOK AT THE BULLDOGS BLANKING THE CELEBRATION STORM 39 ZERO. A LOT OF BLOWOUTS TONIGHT. YEAH, IT WAS A BIG DAY FOR HIGH SCHOOL FOOTBALL TODAY, BUT A HUGE DAY OF COLLEGE FOOTBALL TOMORROW. NO GAME BIGGER THAN THE ONE OUT IN OKLAHOMA. I'M HEADED TO NORMAN BRIGHT AND EARLY TOMORROW AS UCF TAKES ON OKLAHOMA. YEAH, UCF TAKING ON THE NUMBER SIX TEAM AND ALL THE COUNTRY AND THEIR OLD FRIEND DILLON GABRIEL. WE GOT A NOON KICKOFF FOR THIS ONE. SOME OTHER GAMES AROUND THE AREA. THE GATORS ARE OFF. FLORIDA STATE AND MIAMI BOTH PLAYING IN PRIME TIME. HOW ABOUT THAT? THE TOP 25 MATCHUP BETWEEN FLORIDA STATE AND DUKE AND THEN CLEMSON AND MIAMI NOT PICTURED. STETSON AND BETHUNE COOKMAN. THEY ARE BOTH AT HOME. 1:00 AND 4:00 KICKOFF, RESPECTIVELY. BUT KRISTEN, YOU'RE GETTING READY TO HEAD OUT TO OKLAHOMA. DILLON GABRIEL LOOKS LIKE HE COULD BE THE FAVORITE TO WIN THE HEISMAN TROPHY. IT'S GOING TO BE A FUN DAY FOR OKLAHOMA. YEAH, I WAS GOING TO SAY, I FELT LIKE YOU WERE GOING WITH A FUN DAY FOR UCF, BUT I'M NOT SO SURE IT'S GOING TO BE A TOUGH ONE. THE NUMBER SIX TEAM IN THE COUNTRY GOING ON THE ROAD, THE BIG 12 HASN'T BEEN EASY SO FAR FOR THE KNIGHTS SINCE THEY'VE BEEN IT. STILL LOOKING FOR THAT FIRST CONFERENCE WIN. AND IF THEY PULL THE UPSET OVER OKLAHOMA, IT MIGHT BE ONE OF THE BIGGEST WINS IN UCF HISTORY. BUT ANOTHER BIG ONE, FSU AND DUKE IN THAT TOP 20 MATCHUP. WHAT DO YOU WHAT DO YOU THINK IT FOR THAT ONE, IS IT A CHALLENGE FOR FSU OR ARE THEY GOING TO ROLL RIGHT THROUGH? I THINK THEY'RE 14 POINT FAVORITES IN THIS ONE. SO FLORIDA STATE, THEY'RE TRYING TO SHOW THAT THEY DESERVE IN THE COLLEGE FOOTBALL PLAYOFF, THEY'RE CHASING A NATIONAL CHAMPIONSHIP IN TALLAHASSEE. THEY'RE GOING TO HAVE TO GET THE WIN OVER DUKE COMING UP TOMORROW. SO WE'RE OPTIMISTIC FOR FSU, NOT AS OPTIMISTIC FOR UCF, BUT HEY, IT'S COLLEGE FOOTBALL. YOU GOT TO PLAY THE GAMES ON THE FIELD. WE CAN TALK ABOUT IT. IT ALL GETS DECIDED ON THE GRIDIRON. ZACH MASKAVICH SAID IT BEST FOR ZACH. I AM KRISTEN LAGO. WE WILL SEE YOU NEXT WEEK FOR HIGH SCHOOL FOOTBALL SEASON.
Friday Night Hits: All game recaps and scores
Check out recaps and scores from this week's Friday Night Hits.Take a look at all the Central Florida high school football highlights from this Friday, Oct. 20.Game of the Week: New Smyrna Beach at Spruce Creek Lake Mary at Apopka Edgewater vs. Horizon DeLand vs. UniversityWekiva vs. Jones Dr. Phillips vs. West Orange Freedom vs. Olympia Oviedo vs. Lyman Seminole vs. Lake Brantley Ocoee vs. Windermere Astronaut vs. Cocoa Merritt Island vs. Rockledge Forest vs. Lake Minneola Colonial vs. Winter Park Lake Nona vs. Oak Ridge
ORLANDO, Fla. —
Check out recaps and scores from this week's Friday Night Hits.
Take a look at all the Central Florida high school football highlights from this Friday, Oct. 20.