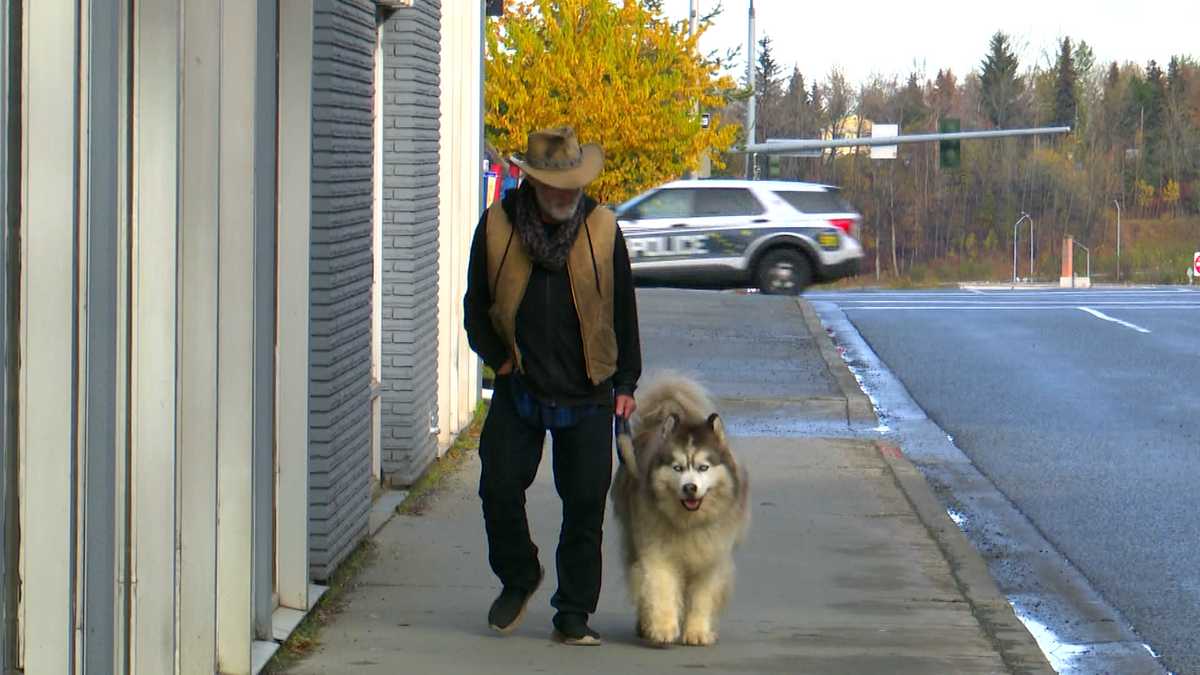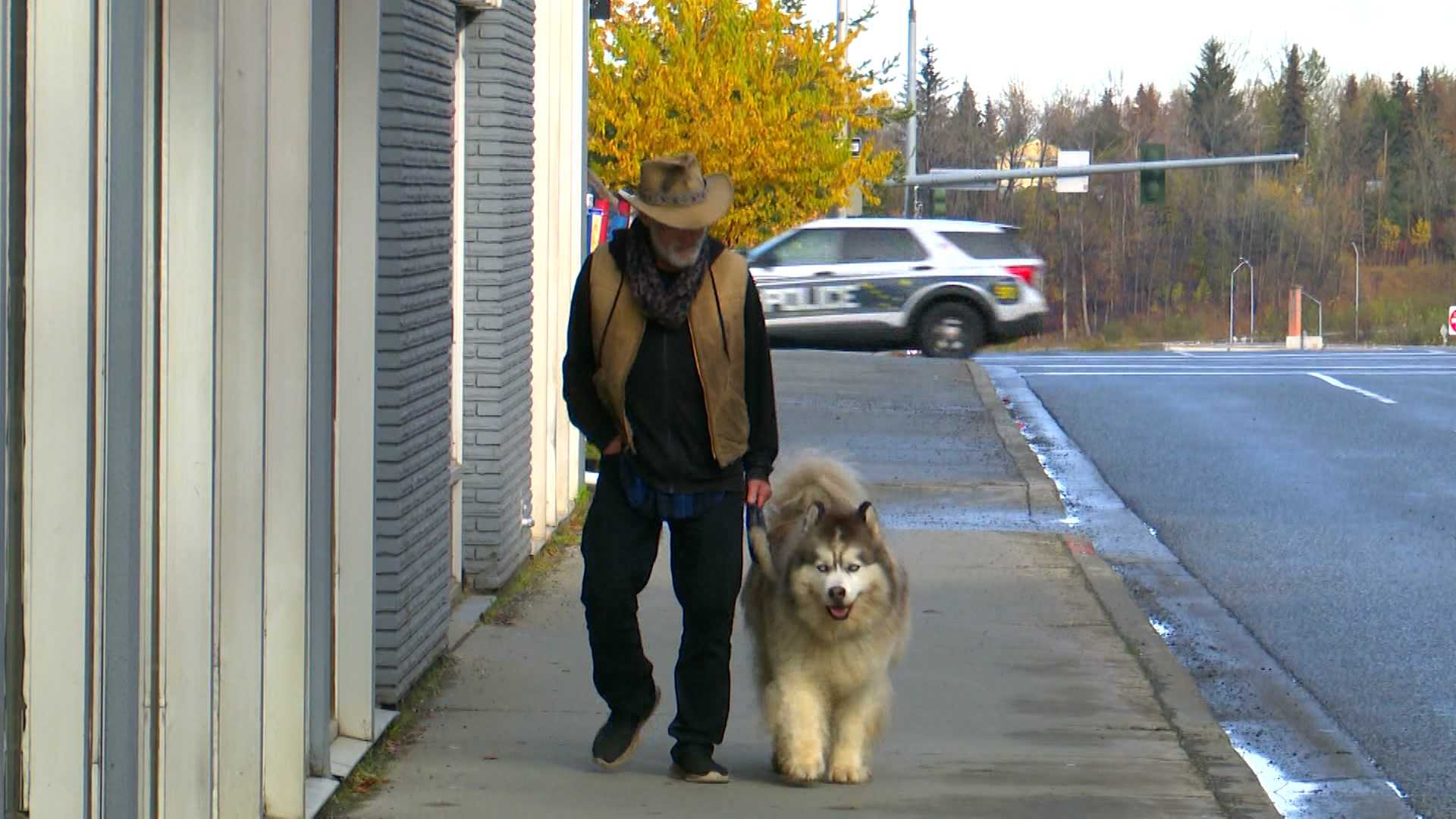 Robert "Ziggy" Zeigler and his dog Meiko are all hands — and paws — on deck for a write-in election campaign in Anchorage, Alaska.But, Zeigler isn't the candidate running for mayor. With campaign banners hanging in town, Zeigler is trying to get his Alaskan Malamute mix elected as mayor of Anchorage, which is Alaska's largest city."Politics has become kind of a dog-eat-dog kind of thing," Zeigler told KTUU."Well, I figured why not run a dog for mayor and for office might change things, how people feel," he later explained.Zeigler is calling himself Meiko's campaign manager in the dog's write-in campaign. He says his dog, Meiko, is a good boy and has the right disposition to represent the Alaskan city as mayor. "Oh I love my candidate because I know he loves me," Zeigler said.Zeigler is well-known in the area, pointing out to KTUU that he's painted murals in public places in Anchorage. His latest endeavor as Meiko's write-in campaign manager is drawing attention. "When he goes up and down the street, everybody wants to take pictures of him," Zeigler said of the canine candidate. Asked if his candidate is likable, Zeigler said, ""Oh he's lovable.""He is very hairy and has a great disposition," Zeigler said of the four-legged write-in candidate.He said that Meiko "loves to hug.""And he loves to give kisses," Zeigler said in bragging about his candidate. While Zeigler says he backs Meiko for mayor, he admits that the candidate has a price. "You can influence him, I hate to say that. A treat will always get him to respond to you," Zeigler said.Folks walking by on the street enjoyed the idea of the dog running for mayor and stopped to give him a pet."He's got my vote," one woman said, adding "Meiko for mayor!"A man on the street who met Meiko suggested that the dog's campaign could bridge political divides. "Who can say no to a fluffy dog?" he said. "Both sides got to come together and pet him."See more in the video player above
ANCHORAGE, Alaska (Video above from KTUU via CNN) —
Robert "Ziggy" Zeigler and his dog Meiko are all hands — and paws — on deck for a write-in election campaign in Anchorage, Alaska.
But, Zeigler isn't the candidate running for mayor.
With campaign banners hanging in town, Zeigler is trying to get his Alaskan Malamute mix elected as mayor of Anchorage, which is Alaska's largest city.
"Politics has become kind of a dog-eat-dog kind of thing," Zeigler told KTUU.
"Well, I figured why not run a dog for mayor and for office might change things, how people feel," he later explained.
Zeigler is calling himself Meiko's campaign manager in the dog's write-in campaign. He says his dog, Meiko, is a good boy and has the right disposition to represent the Alaskan city as mayor.
"Oh I love my candidate because I know he loves me," Zeigler said.
Zeigler is well-known in the area, pointing out to KTUU that he's painted murals in public places in Anchorage. His latest endeavor as Meiko's write-in campaign manager is drawing attention.
"When he goes up and down the street, everybody wants to take pictures of him," Zeigler said of the canine candidate.
Asked if his candidate is likable, Zeigler said, ""Oh he's lovable."
"He is very hairy and has a great disposition," Zeigler said of the four-legged write-in candidate.
He said that Meiko "loves to hug."
"And he loves to give kisses," Zeigler said in bragging about his candidate.
While Zeigler says he backs Meiko for mayor, he admits that the candidate has a price.
"You can influence him, I hate to say that. A treat will always get him to respond to you," Zeigler said.
Folks walking by on the street enjoyed the idea of the dog running for mayor and stopped to give him a pet.
"He's got my vote," one woman said, adding "Meiko for mayor!"
A man on the street who met Meiko suggested that the dog's campaign could bridge political divides.
"Who can say no to a fluffy dog?" he said. "Both sides got to come together and pet him."
See more in the video player above