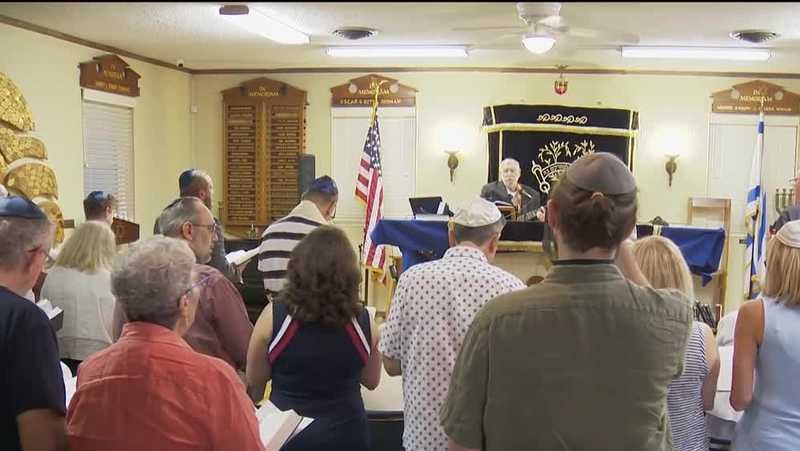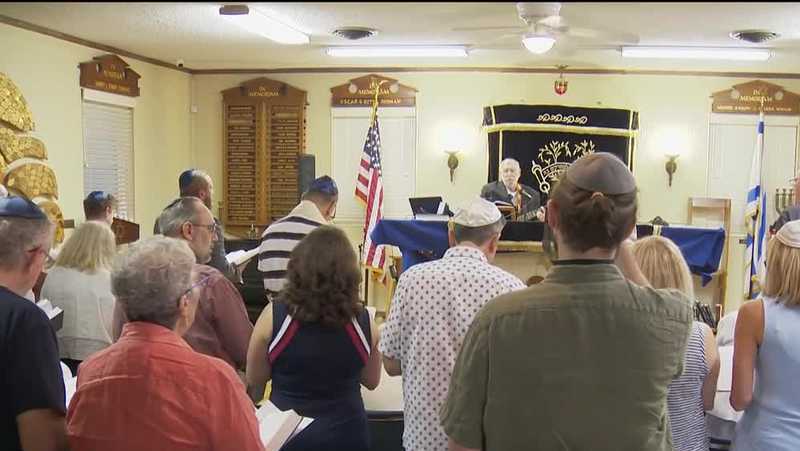 Israel delivered a stark warning to citizens living in northern Gaza on Friday.Israel gave more than one million people 24 hours to evacuate before launching more air strikes and a ground invasion.Related: Central Floridians gather to mourn lives lost in IsraelPeople across Central Florida are gathering to honor Israelis and Palestinians who have lost their lives.Others are worried about their friends and family members who live near the violence. "I know that at any moment they could be killed," said Rob Davidson, a man who lives in DeLand but has several loved ones in Israel.Related: It's difficult': Journalist in Israel urges people to stay informed of ongoing brutalityRob says his best friends have been living in fear this week as he and his wife, Rona, try to keep the family safe. Rob says he's been in the closest contact with Rona."Pretty much on a daily basis, she has to go into a saferoom. A couple of times when she was driving and the sirens went off, you're told to just lay on the ground. You have to go away from your vehicle and lay on the ground. That's happened several times this week," he said.Related:Florida's Jewish community reacts to attack in IsraelIt's a feeling of concern Stephanie Brenner knows well. Her nephew and his family also live in Israel.He and his wife have a 2-year-old and a 5-year-old daughter.They've been sleeping in a bunker in the basement of their home, waiting for the sirens to stop.Related: Vigil and memorial for Israel held in Volusia County"Whenever the sirens go off, they run down to the basement. My 5-year-old great-niece was in the bunker the other night and said, 'Why do they hate us? Why are they trying to kill us so much?' She's 5 years old. It's gut-wrenching to hear," Brenner said.Both Davidson and Brenner attend the Temple Israel of DeLand, led by Rabbi Ronald Silverman. Silverman has his own family and friends in Israel and led a service on Friday night dedicated to everyone there."We're here for that. We're here for that and to find strength among ourselves," he said. Top headlines: When to view the solar eclipse in Central Florida Tropical Storm Sean pushes northwest in Atlantic 'What are the odds': Woman was sleeping when tornado ripped roof from Palm Coast home
DELAND, Fla. —
Israel delivered a stark warning to citizens living in northern Gaza on Friday.
Israel gave more than one million people 24 hours to evacuate before launching more air strikes and a ground invasion.
Related: Central Floridians gather to mourn lives lost in Israel
People across Central Florida are gathering to honor Israelis and Palestinians who have lost their lives.
Others are worried about their friends and family members who live near the violence.
"I know that at any moment they could be killed," said Rob Davidson, a man who lives in DeLand but has several loved ones in Israel.
Related: It's difficult': Journalist in Israel urges people to stay informed of ongoing brutality
Rob says his best friends have been living in fear this week as he and his wife, Rona, try to keep the family safe. Rob says he's been in the closest contact with Rona.
"Pretty much on a daily basis, she has to go into a saferoom. A couple of times when she was driving and the sirens went off, you're told to just lay on the ground. You have to go away from your vehicle and lay on the ground. That's happened several times this week," he said.
Related:Florida's Jewish community reacts to attack in Israel
It's a feeling of concern Stephanie Brenner knows well. Her nephew and his family also live in Israel.
He and his wife have a 2-year-old and a 5-year-old daughter.
They've been sleeping in a bunker in the basement of their home, waiting for the sirens to stop.
Related: Vigil and memorial for Israel held in Volusia County
"Whenever the sirens go off, they run down to the basement. My 5-year-old great-niece was in the bunker the other night and said, 'Why do they hate us? Why are they trying to kill us so much?' She's 5 years old. It's gut-wrenching to hear," Brenner said.
Both Davidson and Brenner attend the Temple Israel of DeLand, led by Rabbi Ronald Silverman. Silverman has his own family and friends in Israel and led a service on Friday night dedicated to everyone there.
"We're here for that. We're here for that and to find strength among ourselves," he said.
Top headlines: