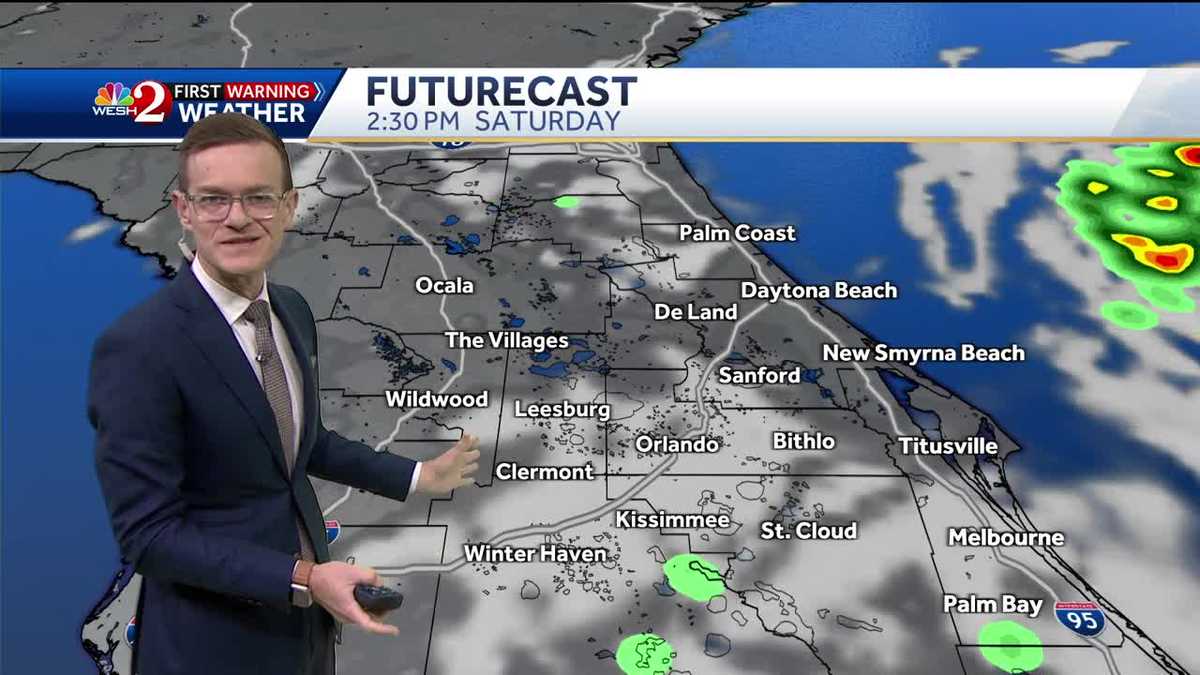 Cloudy start, but sunshine increases this weekend!
COOL. YOU GOT TO GO SEE THIS STUFF. ALL RIGHT. WHAT COOL GADGETS DO YOU HAVE TO PUT THE SUN AND SUNSHINE? WE'RE WORKING ON IT. OKAY. I'VE GOT A COLD FRONT. THAT LITTLE GADGET IS GOING TO SWEEP OUT ALL THIS MOISTURE. SO WE ARE IN LUCK. THINGS ARE GOING TO BE CHANGING. THIS MORNING'S MATTER OF FACT, LET ME TAKE YOU TO THE ORLANDO INTERNATIONAL AIRPORT. OKAY. AND IT'S IT'S A LITTLE BIT OF SUNNY PEEKS THROUGH THERE. OKAY. IT'S CLOUDY. SURE. DON'T GET ME WRONG, BUT WE'VE GOT A LITTLE BIT OF SUNSHINE. UPPER 60S OUT THE DOOR RIGHT NOW HERE. IT'S 66 IN OCALA, 67 DEGREES IN DELAND. SO IT'S A COMFORTABLE START. AND THERE ARE THESE LITTLE SPRINKLES SHOWING UP FROM TIME TO TIME ON RADAR. THEY'RE MOVING ON THROUGH. CERTAINLY NOTHING STRONG OR SEVERE, BUT WE ARE STILL STUCK FOR JUST A LITTLE BIT LONGER. OKAY. IN THIS MOIST PATTERN, THERE'S THE STORM SYSTEM THAT BROUGHT US ALL THE RAIN. IT'S ALL THE WAY OFF THE COAST OF THE OUTER BANKS. BUT LOOK AT THAT TRAIL OF MOISTURE GOING ALL THE WAY THROUGH THE PENINSULA. BUT THERE IS A BACK END THERE. AND THIS COLD FRONT KIND OF HELPS TO SLOW SWEEP ALL OF THAT OUT AND PUSH IN SOME DRIER AIR. SO LOOKING AT OUR 12 HOUR FORECAST, WE BEGIN WITH THE CLOUDS. AND THEN NOTICE LITTLE BY LITTLE, WE'LL BE CLEARING THOSE CLOUDS OUT. OKAY, LUNCHTIME, 7376. OUR HIGH TEMPERATURE AND MOSTLY CLOUDY SKIES, BUT LITTLE BY LITTLE, IT CLEARS. HERE'S FUTURE CAST FOR A GRAPHICAL DEPICTION. OKAY, LUNCHTIME. MOSTLY CLOUDY, BUT LOOK AT THAT. 3:00. DOING BETTER. A FEW SHOWERS AROUND DINNERTIME OR SO, BUT THAT'S IT. AND THEN 9:00 PM MOSTLY CLEAR SKIES. AND HERE'S THE KICKER 8 A.M. TOMORROW, YOU SEE THAT? THAT IS A CLEAR SKY. AND THROUGH THE DAY TOMORROW, WE'LL GET A CLEAR SKY. ALL THANKS TO THIS FRONT. KIND OF WASH OUT OVER US. BUT CLEARING OUT AND TURNING THE WINDS AND REALLY HELPING TO GRAB SOME DRIER AIR AND FORCE IT RIGHT DOWN THE PENINSULA. SO WE ARE LOOKING GOOD. AND AS A MATTER OF FACT, TRAVEL IS LOOKING GOOD. REMEMBER, WE'RE APPROACHING THANKSGIVING. SO TRAVEL BECOMING MORE AND MORE OF A THING. THAT STORM SYSTEM STAYS FAR ENOUGH OFF THE SHORELINE. I DON'T THINK IT'S GOING TO REALLY IMPACT TRAVEL THROUGH THE NORTHEAST CORRIDOR. SOME SHOWERS APPROACHING EVEN SOME SNOW APPROACHING DENVER. SO UNITED AIRLINES HAS A HUB OUT THERE, MAY GET A LITTLE BIT OF SLOW WEATHER. SAME, SAME THING FOR TOMORROW. A LITTLE STORM SYSTEM MOVING THROUGH THE PLAINS TOMORROW, BUT I DO WANT TO GIVE YOU A FIRST WARNING. WHEN DAY THE DAY BEFORE THANKSGIVING, A STORM SYSTEM AND COLD FRONT IMPACTS THE ENTIRE EASTERN SEABOARD. MAY MAY SLOW SOME TRAVEL DOWN. YOU CAN SEE OUR RAIN CHANCES THERE ON WEDNESDAY. BUT LOOK WHAT HAPPENS THURSDAY. WE CLEAR OUT COOL DOWN JUST A LITTLE BIT. SO SO IT'S KIND OF A GIVE AND TAKE. JUST HOPEFULLY IF YOU'RE TRAVELING ON WEDNESDAY, THOSE
Cloudy start, but sunshine increases this weekend!
Eric Burris tracking your weekend, and looking ahead to travel forecasts
Eric Burris tracking your weekend, and looking ahead to travel forecasts