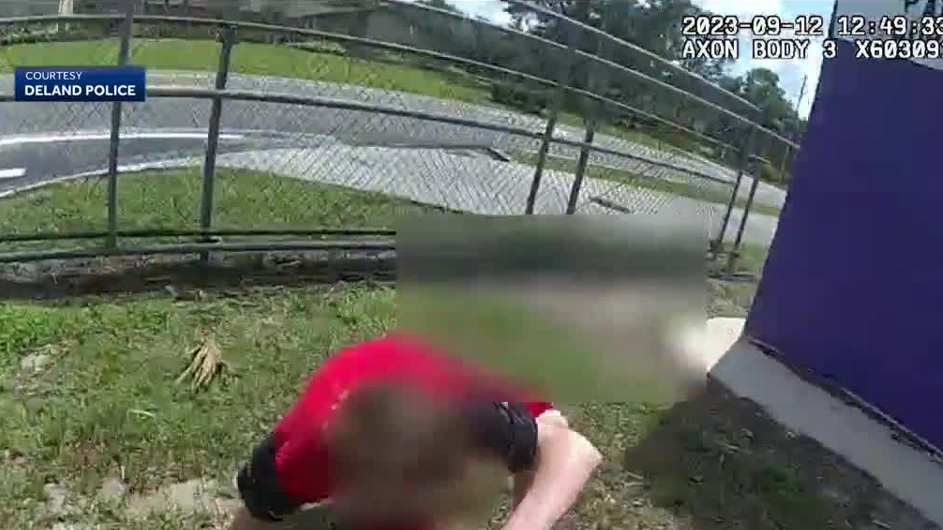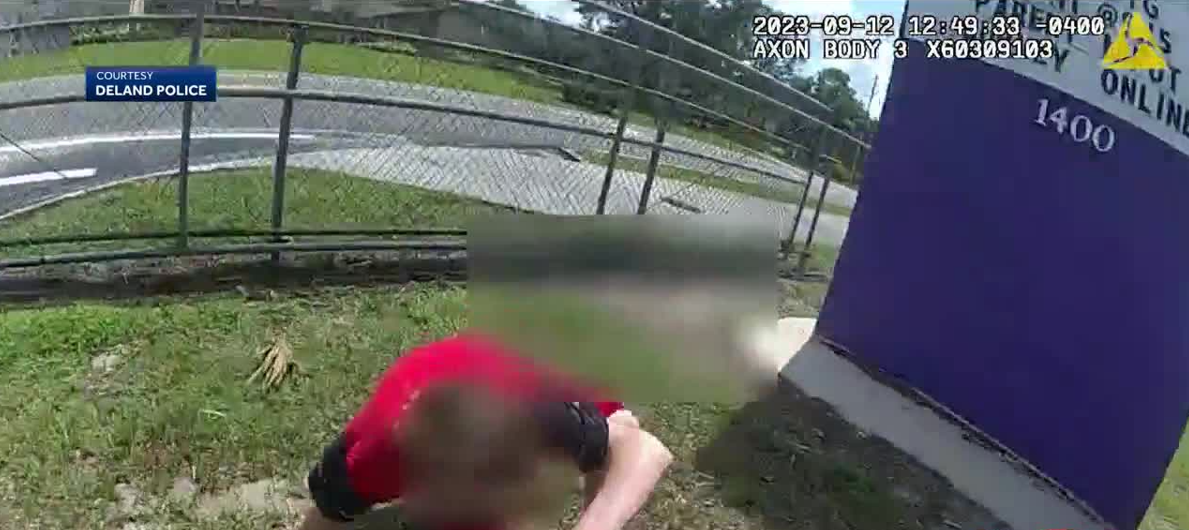 A young boy with autism was grabbed by a school resource officer and handcuffed. It happened at DeLand Middle School. The boy's mother says her son was severely mistreated.AJ's mother, Danielle Torres, was furious when she saw how her son was treated on the day of the incident.I watched the entire 40 minutes of body cam footage of the officer that grabbed the boy and I want to warn you, it may be hard to watch. "I'm sorry. I'm sorry," the student said in body cam footage. Body cam footage shows the moment a school resource officer tackled Genaro Monteon-Martinez, also known as AJ, at DeLand Middle School.Before the officer even gets there, the boy falls to the ground, covering his face and screaming, "Sorry."According to the incident report, on Sept. 12, AJ, who has autism, was trying to run away from school grounds toward oncoming traffic.But AJ's mother says the video tells a different story. "In the video, it shows my son. He was already on the ground in the fetal position. The officer pounced on top of him as if he was a murderer," Torres said. "In the video, you can see he was on the inside of the fence. There was another male with him. There was no way for him to get out of that fence without that male moving."In the incident report, Volusia County Schools alleges the boy was hitting, biting and running from staff and threatening to hit other students. As AJ sits in an office, you can hear him crying.The officer can be heard talking about the boy to another adult in the room. "Don't try that crap. No sympathy for him. This has been going on all morning. He's punched two administrators, he's punched a campus adviser. He spit on Principal DeVito. He's been running around. Yeah, no, no sympathy for that one," an officer said in the body cam video. In a statement, DeLand police said, "It was determined the officer followed proper procedures to secure the student to ensure his safety and keep him from running onto the road. It was also determined that the officer made insensitive and unprofessional comments to the student contrary to his training. The officer was issued formal discipline in the form of a written reprimand." AJ was handcuffed and seen going into a door with his head down all while screaming. DeLand police say he was secured in handcuffs to avoid causing harm to himself or others.You could see scaring on AJ's wrists. Officers say that was caused from AJ trying to remove the cuffs. But his mother says the school was aware of AJ's condition and that he should have never been handcuffed, and that they didn't call her until an hour and a half after the incident. "I feel hate in my body. Why? Because you don't understand him," Torres said. "Where am I going?" AJ asked in the body cam video."To jail," an officer said in the body cam video. "No, please," AJ said in the body cam video. Top headlines: Arrest made after man killed in I-4 road rage shooting, sheriff says Florida authorities on hunt for prison inmate who escaped during work detail Volusia mother who vanished after party found dead
VOLUSIA COUNTY, Fla. —
A young boy with autism was grabbed by a school resource officer and handcuffed.
It happened at DeLand Middle School.
The boy's mother says her son was severely mistreated.
AJ's mother, Danielle Torres, was furious when she saw how her son was treated on the day of the incident.
I watched the entire 40 minutes of body cam footage of the officer that grabbed the boy and I want to warn you, it may be hard to watch.
"I'm sorry. I'm sorry," the student said in body cam footage.
Body cam footage shows the moment a school resource officer tackled Genaro Monteon-Martinez, also known as AJ, at DeLand Middle School.
Before the officer even gets there, the boy falls to the ground, covering his face and screaming, "Sorry."
According to the incident report, on Sept. 12, AJ, who has autism, was trying to run away from school grounds toward oncoming traffic.
But AJ's mother says the video tells a different story.
"In the video, it shows my son. He was already on the ground in the fetal position. The officer pounced on top of him as if he was a murderer," Torres said. "In the video, you can see he was on the inside of the fence. There was another male with him. There was no way for him to get out of that fence without that male moving."
In the incident report, Volusia County Schools alleges the boy was hitting, biting and running from staff and threatening to hit other students.
As AJ sits in an office, you can hear him crying.
The officer can be heard talking about the boy to another adult in the room.
"Don't try that crap. No sympathy for him. This has been going on all morning. He's punched two administrators, he's punched a campus adviser. He spit on Principal DeVito. He's been running around. Yeah, no, no sympathy for that one," an officer said in the body cam video.
In a statement, DeLand police said, "It was determined the officer followed proper procedures to secure the student to ensure his safety and keep him from running onto the road. It was also determined that the officer made insensitive and unprofessional comments to the student contrary to his training. The officer was issued formal discipline in the form of a written reprimand."
AJ was handcuffed and seen going into a door with his head down all while screaming.
DeLand police say he was secured in handcuffs to avoid causing harm to himself or others.
You could see scaring on AJ's wrists. Officers say that was caused from AJ trying to remove the cuffs.
But his mother says the school was aware of AJ's condition and that he should have never been handcuffed, and that they didn't call her until an hour and a half after the incident.
"I feel hate in my body. Why? Because you don't understand him," Torres said.
"Where am I going?" AJ asked in the body cam video.
"To jail," an officer said in the body cam video.
"No, please," AJ said in the body cam video.
Top headlines: