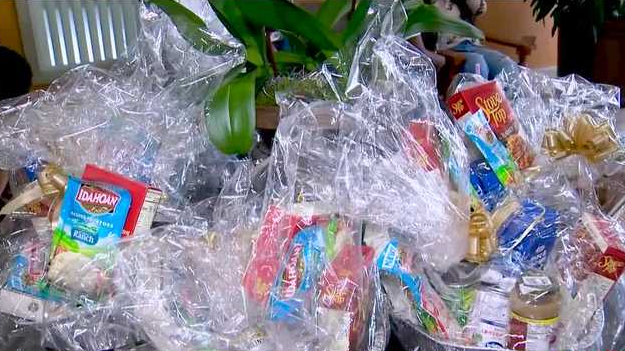 VERY NICE. WELL, IT IS THE SEASON OF GIVING. AND ONE ORANGE COUNTY WOMAN TOOK THAT VERY SERIOUSLY TODAY. WESH 2 LIV JOHNSON TELLS US ABOUT A FOOD DRIVE IN WINTER PARK THIS AFTERNOON AND THE MEANING BEHIND IT ALL. CHARLOTTE MCCULLOUGH AND SOME VOLUNTEERS PUT TOGETHER MORE THAN 100 THANKSGIVING MEALS TO GIVE OUT TO SINGLE PARENT HOUSEHOLDS AND THE ELDERLY IN ORANGE, OSCEOLA AND SEMINOLE COUNTIES ON SATURDAY. THEY'RE THE MOST VULNERABLE POPULATIONS RIGHT NOW, ESPECIALLY WHEN IT COMES TO FOOD SCARCITY AND JUST THE ECONOMY. RIGHT NOW, THE FOOD DRIVE WAS AT AN OFFICE ON LEE ROAD IN WINTER PARK. THE MEALS INCLUDED TURKEY MASHED POTATOES, MAC AND CHEESE AND OTHER SIDES. IT'S A TRADITION. MCCULLOUGH STARTED AFTER HER GRANDMOTHER PASSED AWAY FROM COVID IN 2020. SHE SAYS THEY FED 57 FAMILIES IN 2021, AND ON SATURDAY, THEY FED MORE THAN 130 FAMILIES. WHEN THEY FIND OUT LIKE IT'S A FULL MEAL, THAT INCLUDES EVERYTHING FOR THANKSGIVING AND HOW THEY LIGHT UP AND SOME CRY AND JUST SAY THANK YOU. THAT'S THE PART THAT REALLY TOUCHES MY HEART. MCCULLOUGH SAYS SHE PLANS ON DOING THE SAME FOOD DRIVE NEXT YEAR EVEN BIGGER A
Orange County woman gives out Thanksgiving meals to seniors, single parents
Cherlette McCullough and some volunteers put together more than 100 Thanksgiving meals to give out to single-parent households and older people in Orange, Osceola, and Seminole counties on Saturday. "They're the most vulnerable populations right now, especially when it comes to food scarcity and the economy," McCullough said.The food drive was at an office on Lee Road in Winter Park.The meals included turkey, mashed potatoes, mac and cheese and other sides.It's a tradition McCullough started after her grandmother died from COVID-19 in 2020.She says she and her volunteers fed 57 families in 2021, and on Saturday, they fed more than 130 families. "When they find out it's a full meal that includes everything for Thanksgiving —how they light up, some of them cry and say thank you. That's the part that really touches my heart," McCullough said.She said she plans on doing the same food drive next year, even bigger and better.Top headlines: Florida experts give advice as 'Mystery Dog Illness' spreads across U.S. Man, woman dead in Daytona Beach murder-suicide, police say Polk County firefighter killed in crash on I-4
ORANGE COUNTY, Fla. —
Cherlette McCullough and some volunteers put together more than 100 Thanksgiving meals to give out to single-parent households and older people in Orange, Osceola, and Seminole counties on Saturday.
"They're the most vulnerable populations right now, especially when it comes to food scarcity and the economy," McCullough said.
The food drive was at an office on Lee Road in Winter Park.
The meals included turkey, mashed potatoes, mac and cheese and other sides.
It's a tradition McCullough started after her grandmother died from COVID-19 in 2020.
She says she and her volunteers fed 57 families in 2021, and on Saturday, they fed more than 130 families.
"When they find out it's a full meal that includes everything for Thanksgiving —how they light up, some of them cry and say thank you. That's the part that really touches my heart," McCullough said.
She said she plans on doing the same food drive next year, even bigger and better.
Top headlines: