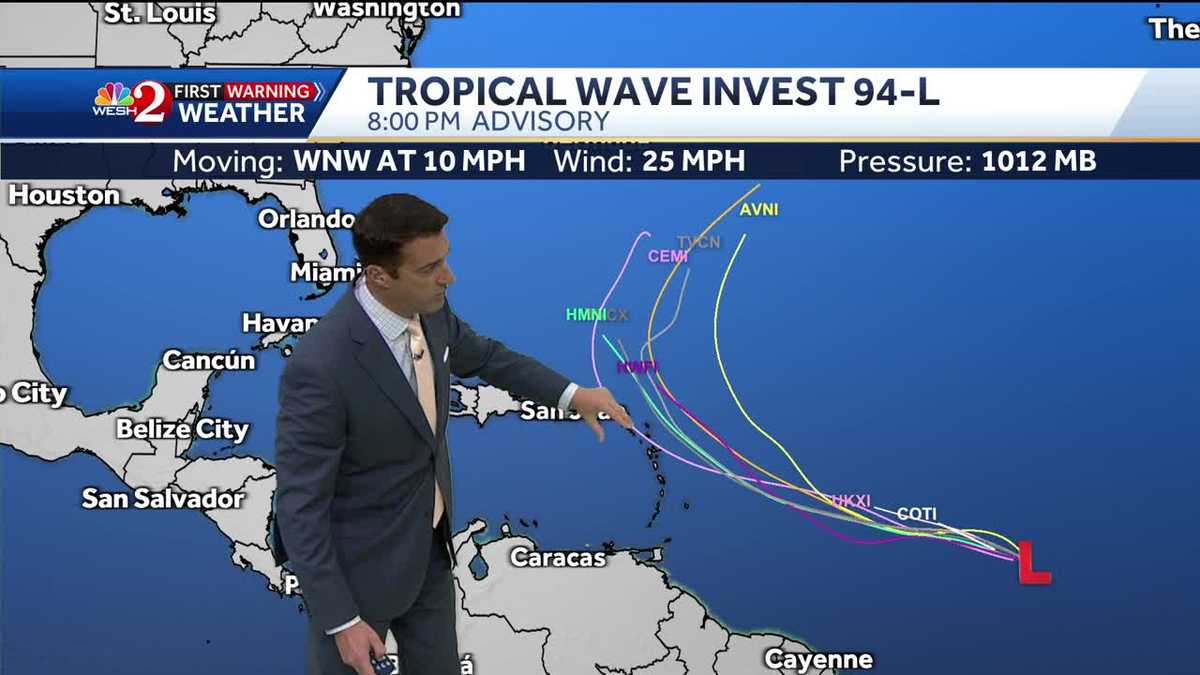 NOONTIME TEMPERATURE COMING IN AT ABOUT 76 DEGREES. LOOK AT THE OVERALL NUMBER NOW OF SHOWERS AND STORMS STARTING TO GET A LITTLE BIT BETTER ORGANIZED AROUND THAT CENTER THERE WITH INVEST 90 FOR THE MODELS TONIGHT, STILL CURVING THIS AWAY FROM THE WINDWARD ISLANDS, BUT IT'S AWFULLY CLOSE. WE'RE GOING TO HAVE TO WATCH THAT. SOME OF THE COMPUTER MODELS GOING WITH THE INTENSITY THERE OF
Invest 94-L could become tropical depression, NHC says
The National Hurricane Center is tracking Invest 94-L, located about halfway between the Windward Islands and the west coast of Africa.Invest 94-L has been given an 80% chance of development in the next seven days and a 50% chance of development in the next two days. The system could soon become a tropical depression."Environmental conditions are expected to remain conducive for further development, and a tropical depression will likely form during the next few days. This system is forecast to move westward to west-northwestward across the central and western tropical Atlantic during the next several days," the NHC said. Related: How to make your family and home safe for hurricane seasonRelated: WESH 2 Hurricane Survival Guide 2023Related: WESH 2 2023 Hurricane Season Forecast
The National Hurricane Center is tracking Invest 94-L, located about halfway between the Windward Islands and the west coast of Africa.
Invest 94-L has been given an 80% chance of development in the next seven days and a 50% chance of development in the next two days.
The system could soon become a tropical depression.
"Environmental conditions are expected to remain conducive for further development, and a tropical depression will likely form during the next few days. This system is forecast to move westward to west-northwestward across the central and western tropical Atlantic during the next several days," the NHC said.
Related: How to make your family and home safe for hurricane season
Related: WESH 2 Hurricane Survival Guide 2023
Related: WESH 2 2023 Hurricane Season Forecast