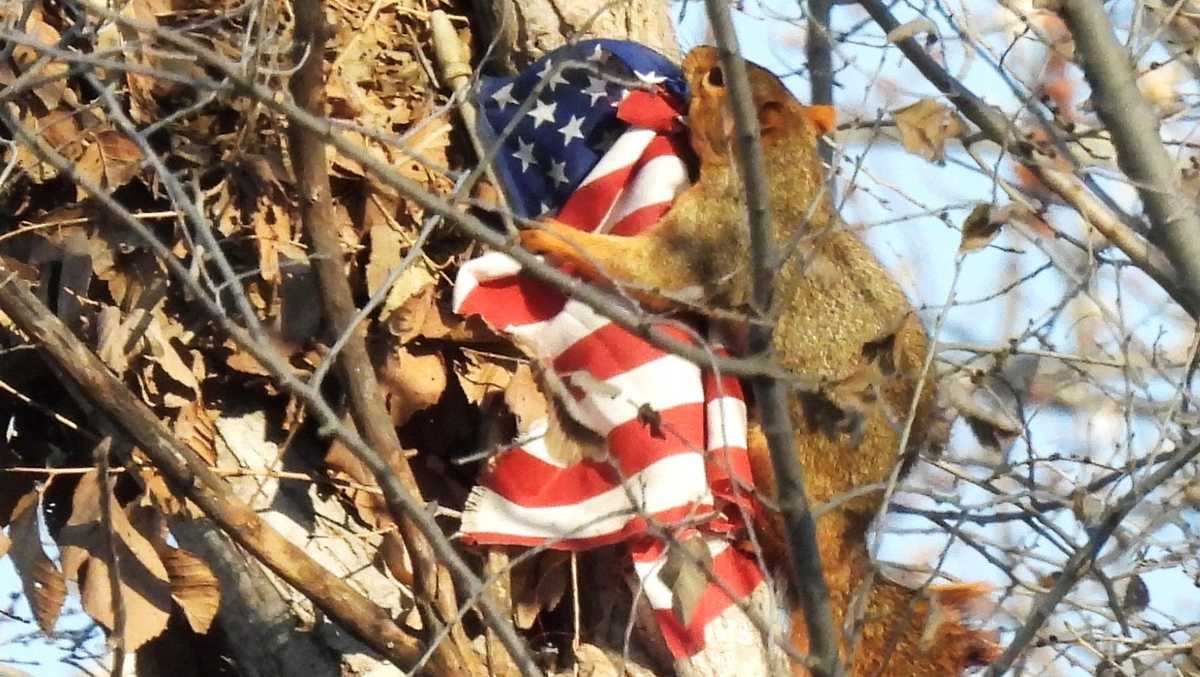 One squirrel in central Iowa was apparently feeling extra patriotic on Election Day.The ornery critter stole a small American flag from a yard in Van Meter and tried to squirrel it away in its nest up a nearby tree. Nancy Pirillo captured the whole caper with her camera Tuesday afternoon."The squirrel was running Mach 10 down the street from my place with a recently stolen flag from a neighbor's yard," said Pirillo, who shared the photos with sister station KCCI. "It managed to get the flag up to the nest in a large tree, but while trying to pull it inside the nest, the flag fell to the ground. I gave it a few minutes to come down and try again, but it didn't, so I retrieved it and placed it in its rightful place.""We have so many squirrels around here, and they are absolutely adorable. They're so much fun to watch. They're so much fun to photograph. Because they're just so animated, and this one was definitely animated."
VAN METER, Iowa —
One squirrel in central Iowa was apparently feeling extra patriotic on Election Day.
The ornery critter stole a small American flag from a yard in Van Meter and tried to squirrel it away in its nest up a nearby tree. Nancy Pirillo captured the whole caper with her camera Tuesday afternoon.
"The squirrel was running Mach 10 down the street from my place with a recently stolen flag from a neighbor's yard," said Pirillo, who shared the photos with sister station KCCI. "It managed to get the flag up to the nest in a large tree, but while trying to pull it inside the nest, the flag fell to the ground. I gave it a few minutes to come down and try again, but it didn't, so I retrieved it and placed it in its rightful place."
"We have so many squirrels around here, and they are absolutely adorable. They're so much fun to watch. They're so much fun to photograph. Because they're just so animated, and this one was definitely animated."
This content is imported from Facebook.
You may be able to find the same content in another format, or you may be able to find more information, at their web site.