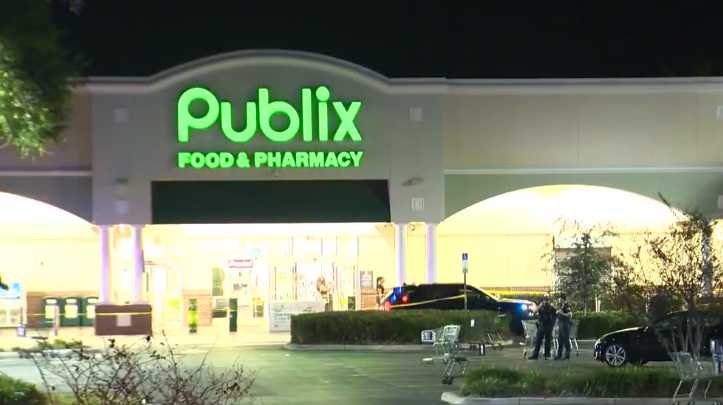 STUDIO. STEWART SUMMER. ALL RIGHT, MICHELLE, THANK YOU. WE NOW KNOW THE NAME OF THE MAN SHOT AND KILLED LAST NIGHT IN OCOEE AT THE CORNER OF EAST SILVER STAR ROAD. AND NORTH CLARK ROAD. POLICE SAY THEY FOUND SIX YEAR OLD GREGORY REED WITH MULTIPLE GUNSHOT WOUNDS. THEY SAY THAT HE WAS SHOT AT A GAS STATION CONVENIENCE STORE AND POLICE FOUND HIM IN THE PARKING LOT OF A PUBLIX. POLICE ALSO SAY SOMEONE INSIDE OF A MERCEDES SEEN IN THIS VIDEO SHOT AT GREGORY'S CAR AT THAT GAS STATION. ANYONE WITH INFORMATION IS URGED TO CALL OCOEE POLICE OR MAKE A
Police: Man shot, killed near Central Florida Publix identified
One person is dead after a shooting near an Ocoee Publix on Thursday. Police responded to the Publix at Silver Crossing, which is on Silver Star Road around 8:30 p.m.Upon arrival, they found a man with multiple gunshot wounds.The victim, identified as 60-year-old Gregory Reed, was transported to Orlando Health – Health Central Hospital where he was pronounced dead.Anyone with information is asked to contact the Ocoee Police Department Criminal Investigations Division at 407-905-3160 or call Crimeline at 1-800-423-TIPS to remain anonymous. Top headlines: Fight at Florida Publix ends with person being stabbed to death Police: Man shot, killed near Central Florida Publix identified Tropical disturbance being tracked in Caribbean Sea
OCOEE, Fla. —
One person is dead after a shooting near an Ocoee Publix on Thursday.
Police responded to the Publix at Silver Crossing, which is on Silver Star Road around 8:30 p.m.
Upon arrival, they found a man with multiple gunshot wounds.
The victim, identified as 60-year-old Gregory Reed, was transported to Orlando Health – Health Central Hospital where he was pronounced dead.
Anyone with information is asked to contact the Ocoee Police Department Criminal Investigations Division at 407-905-3160 or call Crimeline at 1-800-423-TIPS to remain anonymous.
Top headlines: