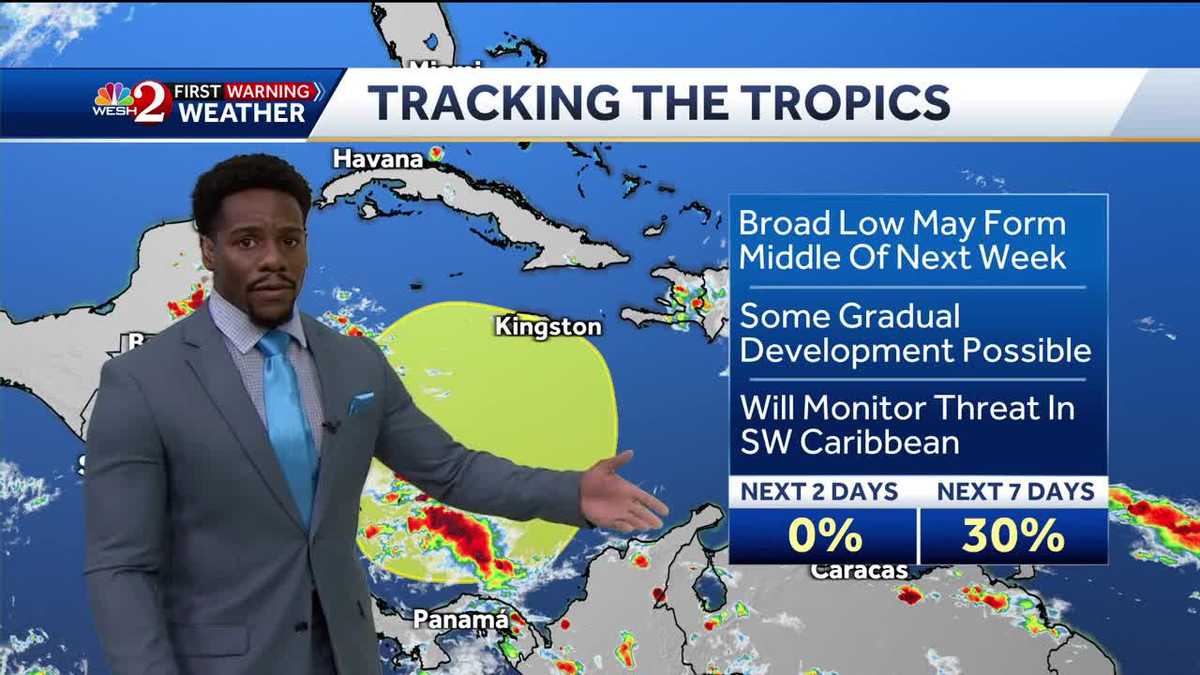 Tropical disturbance being tracked in Caribbean Sea
WE TAKE YOU BACK OUTSIDE TO THE PARTY TONIGHT. THAT'S OVER AT TINKER FIELD ELECTRIC. DAISY CARNIVAL WELL UNDERWAY NOW WILL BE WITH US ALL WEEKEND LONG. IT'LL BE A LOT OF TRAFFIC OVER THAT WAY IN DOWNTOWN WITH THE VETERANS DAY PARADES COME TOMORROW AFTERNOON. TONIGHT, WE'VE GOT THE BREEZES GOING HERE. NO THUNDERSTORMS, BUT WE'VE GOT SOME MUCH NEEDED RAIN. WE ABLE TO GET THEM GOING HERE? A FEW SHOWERS HERE NEAR THE FOUR CORNERS COMING OUT OF CITRUS RIDGE ON INTO CLERMONT GROVE. AND ALONG 227, A COUPLE OF SPOTTY SHOWERS HERE GETS A LITTLE BIT HEAVIER UP TOWARDS OKAHUMPKA. IT'S GOING TO CRUISE ON THROUGH LEESBURG OVER TOWARDS FRUITLAND PARK THERE AND THEN MAYBE MAYBE AS FAR WEST AS WILDWOOD. WE'LL KEEP YOU POSTED ON THAT. IT'S A WARM, MUGGY NIGHT TONIGHT FOR THE MIDDLE OF NOVEMBER. THE TEMPERATURES IN THE 70S, THE DEW POINTS ARE IN THE 70S. AND BECAUSE OF THAT INSTABILITY, WE'LL KEEP IN THE MENTION OF AN ISOLATED SHOWER OVERNIGHT. TONIGHT, THE OUT THE DOOR TEMPERATURES TOMORROW MORNING, MIDDLE UPPER 60S TO THE NORTH, 70 TO 75 ORLANDO A BACK TOWARDS THE COAST. YOUR 12 HOUR FORECAST FOR ORLANDO. AGAIN, WE'LL HAVE THE PITTER PATTER OF SOME OFF AND ON SHOWERS THROUGHOUT THE COURSE OF THE DAY. IT'LL BE A WARM ONE TOMORROW. OUT AHEAD OF THIS FRONT. BUT THIS FRONT WILL KIND OF SNEAK ON THROUGH SATURDAY NIGHT ON INTO SUNDAY. A FEW SHOWERS LINGERING, LINGERING AROUND ON SUNDAY, BUT IT WILL BE A FEW DEGREES COOLER. SO IF YOU LIKE THE WARMER WEATHER, SATURDAY IS GOING TO BE YOUR DAY. 86 IN ORLANDO, 86 BACK TOWARDS LEESBURG. THAT SHOULD BE GOOD ENOUGH TO TIE A RECORD HIGH. NOW WE'RE DRY IN THE MORNING FOR VETERANS DAY. BUT HERE COME A COUPLE OF SHOWERS AS WE GET YOU ON INTO EARLY AFTERNOON IN AND AROUND LAKE EOLA. IF YOU HEAD OVER TOWARDS UCF AND THE BOUNCE HOUSE AS THEY'RE TAKING ON THE COWBOYS, THERE WILL BE SOME DEVELOPING SHOWERS, BUT IT WILL BE WARM THROUGHOUT THE COURSE OF THE AFTERNOON. FRONT DROPS SOUTH OF US ON MONDAY. IT'LL BE A LITTLE BIT COOLER. WE'LL DROP BACK INTO THE UPPER 70S. LOW PRESSURE WILL DEVELOP IN THE GULF OF MEXICO ON THE TAIL END OF THIS FRONT. AND THAT WILL LIKELY GIVE US SOME VERY GOOD RAINFALL AMOUNTS, ESPECIALLY IF YOU LIKE, THE EUROPEAN COMPUTER MODEL HERE. LOCALLY, THOUGH, THE GFS IS A LITTLE BIT LIGHTER ON THE RAINFALL TOTALS, SOMETHING WE'LL BE WATCHING TROPICALLY SPEAKING BY THE MIDDLE OF NEXT WEEK, WE MAY HAVE A DISTURBANCE DEVELOPING HERE IN THE CARIBBEAN. WE'LL KEEP YOU POSTED ON THAT. RAINFALL CHANCES A LITTLE BIT HIGHER TUESDAY AND WEDNESDAY WITH THAT GULF OF MEXICO LOW MO
Tropical disturbance being tracked in Caribbean Sea
The National Hurricane Center is tracking a tropical disturbance in the Caribbean Sea. Forecasters expect a broad area of low pressure to form by the middle of next week and it's been given a 30% chance of development into a storm in the next seven days."Environmental conditions appear conducive for gradual development of this system while it meanders in the Caribbean Sea through the latter part of next week," the NHC said.Models suggest this system may strengthen and move into the Atlantic, but they agree it will stay away from Florida. Related: How to make your family and home safe for hurricane seasonRelated: WESH 2 Hurricane Survival Guide 2023Related: WESH 2 2023 Hurricane Season Forecast
ORLANDO, Fla. —
The National Hurricane Center is tracking a tropical disturbance in the Caribbean Sea.
Forecasters expect a broad area of low pressure to form by the middle of next week and it's been given a 30% chance of development into a storm in the next seven days.
"Environmental conditions appear conducive for gradual development of this system while it meanders in the Caribbean Sea through the latter part of next week," the NHC said.
Models suggest this system may strengthen and move into the Atlantic, but they agree it will stay away from Florida.
Related: How to make your family and home safe for hurricane season
Related: WESH 2 Hurricane Survival Guide 2023
Related: WESH 2 2023 Hurricane Season Forecast