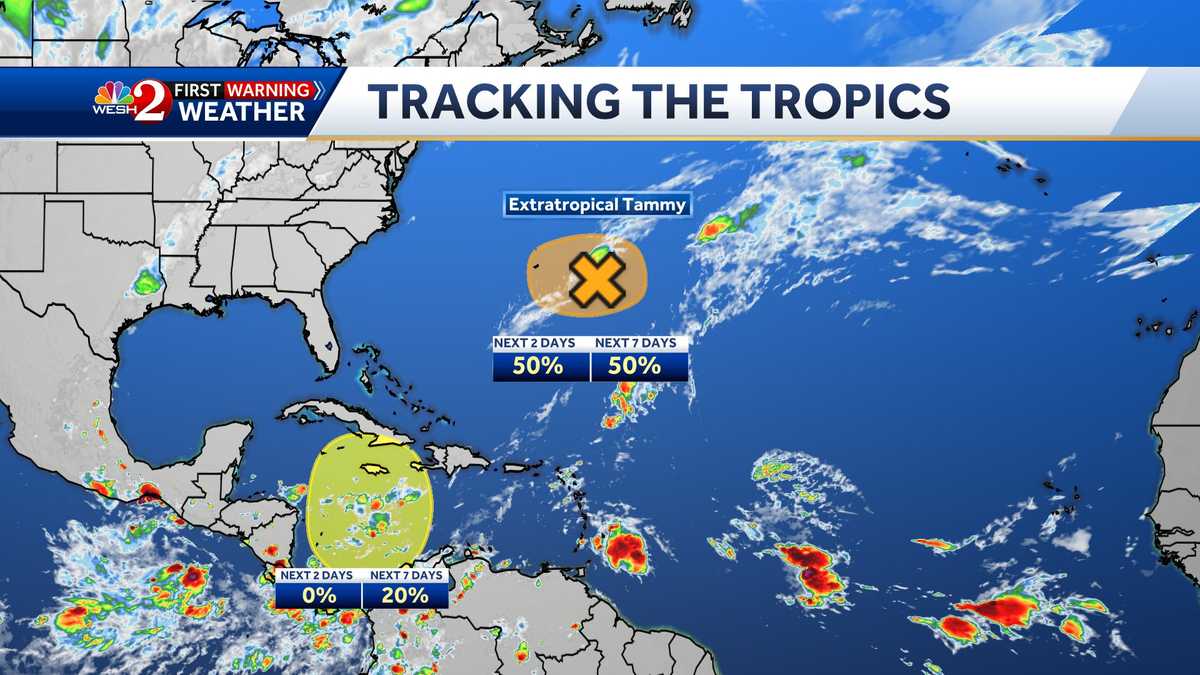 National Hurricane Center tracking new area of interest
THEMSELVES FROM BEING SCAMMED. LET'S TALK ABOUT YOUR FORECAST NOW. IT IS A CALM AND QUIET NIGHT ACROSS CENTRAL FLORIDA, JUST THE WAY WE LIKE IT. CAN WE CONTINUE THAT INTO TOMORROW? I THINK WE CAN. YOU KNOW, WE MAY HAVE A COUPLE OF SHOWERS DURING THE AFTERNOON TOMORROW, BUT OVERALL, I THINK THINGS ARE STARTING TO WIND DOWN, HEADING INTO THE WEEKEND, TOO. WE'VE GOT SOME GREAT WEATHER, NICE AND WARM, TOO. THE ONLY THING WE'LL HAVE TO WATCH IS THOSE RIP CURRENTS. LET ME TAKE YOU BACK OUTSIDE RIGHT NOW AND SHOW YOU WHAT IT LOOKS LIKE UP TOWARDS DAYTONA BEACH. YOU CAN SEE THINGS ARE QUIET. THE TEMPERATURE THERE, MILD, 76 DEGREES BACK TOWARDS THE WEST UP IN MARION COUNTY, WE'RE FALLING BACK INTO THE LOW 70S. METRO AREA, 73 TO ABOUT 75 DEGREES. BUT IT IS THIS FRONT RIGHT IN HERE THAT IS GOING TO BE WORKING SOUTHWARD EVER SO SLOWLY, SUCH THAT BY LATE TUESDAY OR WEDNESDAY, WE'RE GOING TO SEE A DROP OFF IN THE TEMPERATURES AS A SERIES OF FRONTS FINALLY BEGIN TO WORK FARTHER TO THE SOUTH AND BEGIN TO CHANGE OUR CLIMATE A LITTLE BIT. HERE. YOU CAN SEE DEEP EASTERLY FLOW AROUND THE PERIPHERY OF THAT. HIGH PRESSURE HAS GENERATED AND IS GENERATING SOME SHOWERS TONIGHT EAST OF NEW SMYRNA BEACH. THESE WILL LIKELY COME ASHORE A LITTLE BIT LATER ON. METRO AREAS RIGHT NOW ARE IN PRETTY GOOD SHAPE. MOST COMMUNITIES TONIGHT ARE IN THE 70S. THERE MAY BE A FEW UPPER 60S THERE IN NORTHEASTERN MARION COUNTY. WIND SPEEDS TONIGHT, NOT BAD, FIVE TO ABOUT IN SOME INSTANCES, 10 TO 15 MILES. NOW, THE EXCEPTION TO THE RULE HERE, A LITTLE BURST OF WIND OVER TOWARDS BITHLO AND SAINT CLOUD AND MELBOURNE. NOW, DAYBREAK TOMORROW MORNING, WE'RE GOING TO BE RUNNING IN THE LOW 60S HERE NORTH AND WEST OF TOWN, A NORMAL LOW TEMPERATURE IN ORLANDO, 63. SO WE'RE GOING TO BE ABOVE THAT TONIGHT WITH THIS STEADY DIET OF ONSHORE WINDS. TEMPERATURES HERE RUNNING ABOUT 70 TO 75 DEGREES, 12 HOUR FORECAST FOR ORLANDO, A COUPLE OF EARLY MORNING SPRINKLES ALONG THE COAST. BUT I THINK HERE IN TOWN, WE SHOULD BE IN PRETTY GOOD SHAPE. PALM COAST LOOKING PRETTY GOOD, TOO. TEMPERATURES HOLDING IN THE UPPER 70S TONIGHT THROUGH THE DAY TOMORROW. BREEZY AND AT TIMES THERE WILL BE SOME SHOWERS BEING GENERATED OFF OF THOSE ATLANTIC WATERS WITH THAT STEADY DIET OF EAST WINDS AND WITH THAT DOES COME A HIGH RIP CURRENT RISK HERE AS WE GO THROUGH NOT ONLY TOMORROW, BUT I BELIEVE ALSO TOWARDS THE UPCOMING WEEKEND. BECAUSE WHEN YOU TAKE A LOOK AT THE SETUP, THE SEAS ARE GOING TO BE PRETTY ROUGH, ESPECIALLY SATURDAY AS, AGAIN, THE REMNANTS THERE OF TAMMY'S ACTIVITY BEGINS TO PUSH TOWARDS OUR DIRECTION IN THE NORTHERN BAHAMAS. THINGS STARTING TO SETTLE BACK DOWN AS WE GET YOU INTO MONDAY AND TUESDAY OF NEXT WEEK. LOOK AT THESE AFTERNOON HIGHS NOW. TOMORROW, LOW 80S ALONG THE COAST, BACK THROUGH THE INTERIOR, 83 TO ABOUT 86 DEGREES. THE POOL FORECAST NOT BAD. THERE MAY BE A BRIEF SHOWER, BUT NOT WORRIED ABOUT ANY THUNDER OR LIGHTNING. AND THEN FOR THE GOLFERS, WATCH THE WIND. THAT'S THE BIG CONCERN THERE. NO LIGHTNING AND MAYBE A BRIEF SPRINKLE FROM TIME TO TIME. ALL RIGHT. FOOTBALL FORECAST. THE RAMS AND THE SEMINOLES WINDY EARLY ON, MUCH CALMER, THOUGH, DURING THE SECOND HALF. TEMPERATURES MILD IN THE LOW 70S. THEN WE WORK OUR WAY TOWARDS BREVARD COUNTY. THE PIRATES AND THE TIGERS 77 DOWN TO 75. NOT BAD. A BIT OF A BREEZE THERE THERE AS WE HEAD NOW THROUGH THE UPCOMING WEEKEND. SATURDAY DELIGHTFUL FOR HOMECOMING. UCF TAKEN ON THE MOUNTAINEERS. HERE COMES A LITTLE BIT OF MOISTURE NOW AS WE WORK LATE INTO SUNDAY NIGHT AND MONDAY, SOME OF THAT MOISTURE WILL SNEAK IN THE CENTRAL FLORIDA THERE EARLY NEXT WEEK. BUT THE FORECAST FOR THE TAILGATING, 10 A.M., LOOKING GOOD, 78 AND THEN NOONTIME FOR THE KICKOFF THERE, RIGHT AROUND 83 DEGREES. A BIT OF A BREEZE, BUT NICE AND COMFORTABLE. ALL RIGHT. LET'S LOOK AHEAD NOW. NOW TO NEXT WEEK, MONDAY, TUESDAY, RAIN AROUND COMING UP FROM THE BAHAMAS. BUT HERE COMES THIS STRONG FRONT. THIS WILL KIND OF COOL US DOWN. IT WON'T PREVENT RAIN FROM COMING IN OFF, THOUGH, THE ATLANTIC BEHIND THE FRONT WITH THOSE GUSTY NORTHEAST WINDS. BUT WE'LL CONTINUE TO WATCH THAT. THE OTHER NEW DEVELOPMENT NOW IS WE'RE WATCHING THE REMNANTS THERE OF TAMMY. THIS 1ST MAY REDEVELOP AND PRODUCE SOME RAIN NEAR THE BAHAMAS, BUT AN AREA OF LOW PRESSURE NOW MAY FORM IN THE CARIBBEAN. THAT FRONT COMING IN, THOUGH, NEXT WEEK WILL LIKELY KEEP THIS ONE AT BAY. WE'LL TAKE A MUCH CLOSER LOOK AT THE TROPICS COMING UP IN THE NEXT HALF HOUR. SEVEN DAY FORECAST HERE FOR YOU FRIDAY, SATURDAY AND SUNDAY. MIDDLE 80S RAIN CHANCES GOING UP MO
National Hurricane Center tracking new area of interest
A new area of interest in the western Caribbean Sea is being watched by the National Hurricane Center."Environmental conditions could support some slow development of this system early next week while it moves generally northward over western or central portions of the basin," the NHC said.The tropical disturbance currently has low chances of development. As of Thursday night, the system had a 20% chance of development in the next seven days. Related: Hurricane Tammy becomes post-tropicalRelated: How to make your family and home safe for hurricane seasonRelated: WESH 2 Hurricane Survival Guide 2023Related: WESH 2 2023 Hurricane Season Forecast
ORLANDO, Fla. —
A new area of interest in the western Caribbean Sea is being watched by the National Hurricane Center.
"Environmental conditions could support some slow development of this system early next week while it moves generally northward over western or central portions of the basin," the NHC said.
This content is imported from Twitter.
You may be able to find the same content in another format, or you may be able to find more information, at their web site.
The tropical disturbance currently has low chances of development.
As of Thursday night, the system had a 20% chance of development in the next seven days.
Related: Hurricane Tammy becomes post-tropical
Related: How to make your family and home safe for hurricane season
Related: WESH 2 Hurricane Survival Guide 2023
Related: WESH 2 2023 Hurricane Season Forecast