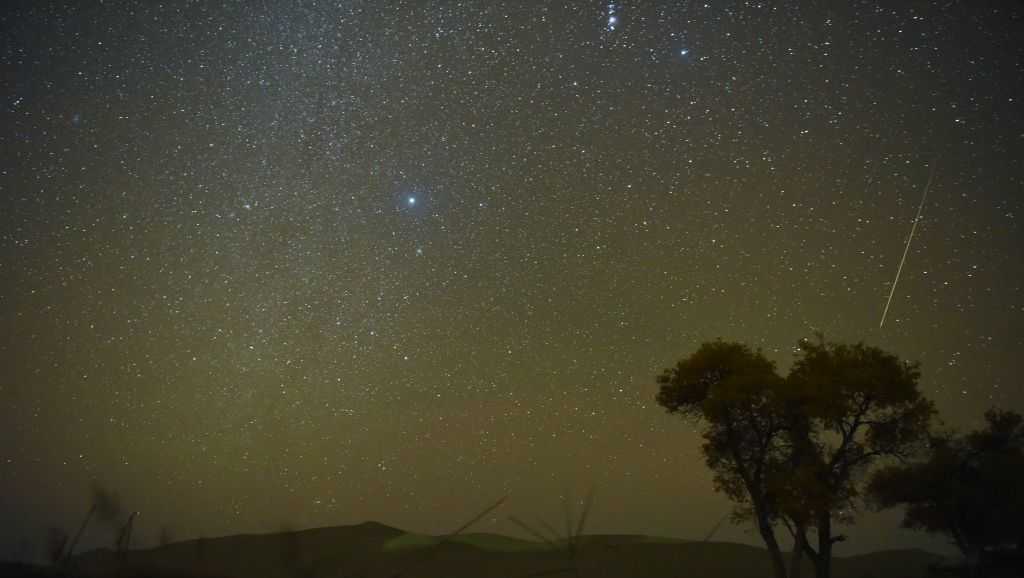 Orionid meteor shower lights up skies across Central Florida
TONIGHT, PEOPLE ACROSS CENTRAL FLORIDA GOT THE CHANCE TO SEE A PARTIAL SOLAR ECLIPSE THIS AFTERNOON. THAT'S WHEN THE MOON BLOCKS THE FACE OF THE SUN. AND THERE WAS A PRETTY NICE VIEWING PARTY FOR THIS BIG EVENT IN WESH 2, WAS THERE? TAKE A LOOK. IT KIND OF LOOKS LIKE SOMEONE TOOK A BITE OUT OF IT. IT SOUNDS FUNNY, BUT THAT'S EXACTLY HOW SATURDAY'S SOLAR ECLIPSE LOOKED, AT LEAST FOR PEOPLE HERE IN ORLANDO. I THINK IT'S LOVELY AND IT'S SOMETHING I'VE NEVER SEEN, EVEN THOUGH I'M OLD. KIDS, ADULTS, EVEN. WESH 2'S LIV JOHNSON JOINED THE CROWD OF HUNDREDS TO CATCH A GLIMPSE OF THE ASTRONOMICAL EVENT AT THE ORLANDO SCIENCE CENTER. THE ANNUAL SOLAR ECLIPSE, ALSO KNOWN AS THE RING OF FIRE, TRAVELED A DIRECT PATH BETWEEN OREGON AND TEXAS. BUT RIGHT HERE IN ORLANDO, EXPERTS ESTIMATE PEOPLE WERE ABLE TO SEE UP TO 60% OF THE ECLIPSE, WHICH IS WHY IT LOOKED LIKE SOMEONE TOOK A HUGE BITE OUT OF THE SUN. SINCE WE'RE NOT IN THE DIRECT PATH, WHAT WE'RE SEEING IS THE MOON BLOCKING OUT THE SUN, KIND OF TURNING THE SUN INTO LIKE A CRESCENT SHAPE. THE MOON IS BLOCKING OUT THE SUN AND CASTING A SHADOW FROM THE SUN ON THE EARTH. BUT IT'S NOT LARGE ENOUGH TO BLOCK THE ENTIRE SUN. AND JUST LIKE ITS NAME, IT'S A RING OF FIRE BECAUSE OF THE BRIGHT BORDER AROUND THE SUN. WHEN THE MOON MOVES IN FRONT OF IT. OFFICIALS SAY THAT BRIGHT RING IS BEST SEEN ALONG ITS DIRECT PATH, BUT MANY HERE WERE QUITE OKAY WITH ORLANDO'S VIEW. TODAY, YOU CAN PUT ON THESE SPECIAL GLASSES AND LOOK UP AND SEE THE MOON. TAKE A BIG CHUNK OUT OF THE SUN. THAT DOESN'T HAPPEN EVERY DAY AND IN APRIL OF NEXT YEAR, A TOTAL SOLAR ECLIPSE WILL BE SEEN IN SEVERAL PARTS OF THE UNITED STATES. OFFICIALS SAY IT WILL TRAVEL FR
Orionid meteor shower lights up skies across Central Florida
Related video above: Central Florida residents view rare 'ring of fire' solar eclipseBetween Saturday night and Sunday morning, the 2023 Orionid meteor shower will be visible here in Central Florida.With a weekend forecast showing clear skies, there's no better place to be than outdoors, not just in the afternoon but also overnight.The best chance to view this display of flying cometary debris will be right around midnight, with mostly clear skies allowing for a nearly unrestricted view.We'll have a waxing crescent moon that evening, bringing just a bit more illumination to the night sky.According to Earth Sky, the Orionids come from Halley's Comet, which orbits the sun every 76 years. The particles left behind by the comet create the Orionids.The shower will exhibit a maximum of about 10 to 20 meteors per hour. The Orionids occasionally leave persistent trains and sometimes produce bright fireballs.The comet will also generate the Eta Aquariids meteor shower, which is visible in early May.Top headlines: 5-year-old twins found dead in Sanford home after mother jumps to her death, deputies say FHP looking for driver in hit-and-run that killed bicyclist Tammy strengthens into hurricane
ORLANDO, Fla. —
Related video above: Central Florida residents view rare 'ring of fire' solar eclipse
Between Saturday night and Sunday morning, the 2023 Orionid meteor shower will be visible here in Central Florida.
With a weekend forecast showing clear skies, there's no better place to be than outdoors, not just in the afternoon but also overnight.
The best chance to view this display of flying cometary debris will be right around midnight, with mostly clear skies allowing for a nearly unrestricted view.
We'll have a waxing crescent moon that evening, bringing just a bit more illumination to the night sky.
According to Earth Sky, the Orionids come from Halley's Comet, which orbits the sun every 76 years. The particles left behind by the comet create the Orionids.
The shower will exhibit a maximum of about 10 to 20 meteors per hour. The Orionids occasionally leave persistent trains and sometimes produce bright fireballs.
The comet will also generate the Eta Aquariids meteor shower, which is visible in early May.
Top headlines: