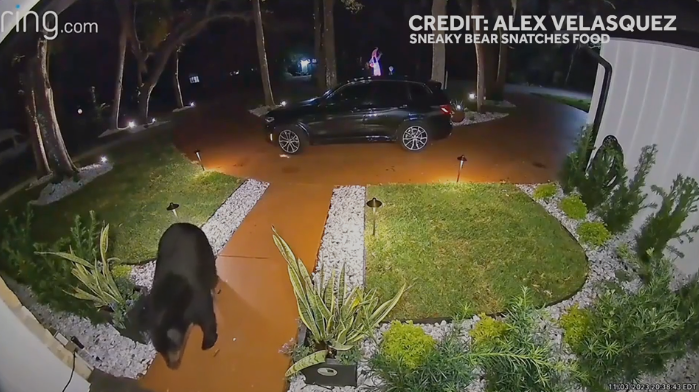 MUST SEE: Sneaky bear steals delivery food from porch of Orlando home
An Orlando family lost their dinner to a hungry thief. Alex Velasquez posted security camera footage of the entire caper, and the hilarious video has now gone viral. In the video, which can be viewed above, a delivery person is seen leaving the food at the front porch. Merely seconds later, a black bear is seen casually strolling up to the door and snatching the bag.The family immediately suspects the bear when they open the door and the food is no where to be seen.A woman can be heard saying, "the bear took it, check the cameras." Related: Strategies to live safely around roaming bear population in Florida
ORLANDO, Fla. —
An Orlando family lost their dinner to a hungry thief.
Alex Velasquez posted security camera footage of the entire caper, and the hilarious video has now gone viral.
In the video, which can be viewed above, a delivery person is seen leaving the food at the front porch. Merely seconds later, a black bear is seen casually strolling up to the door and snatching the bag.
The family immediately suspects the bear when they open the door and the food is no where to be seen.
A woman can be heard saying, "the bear took it, check the cameras."
Related: Strategies to live safely around roaming bear population in Florida