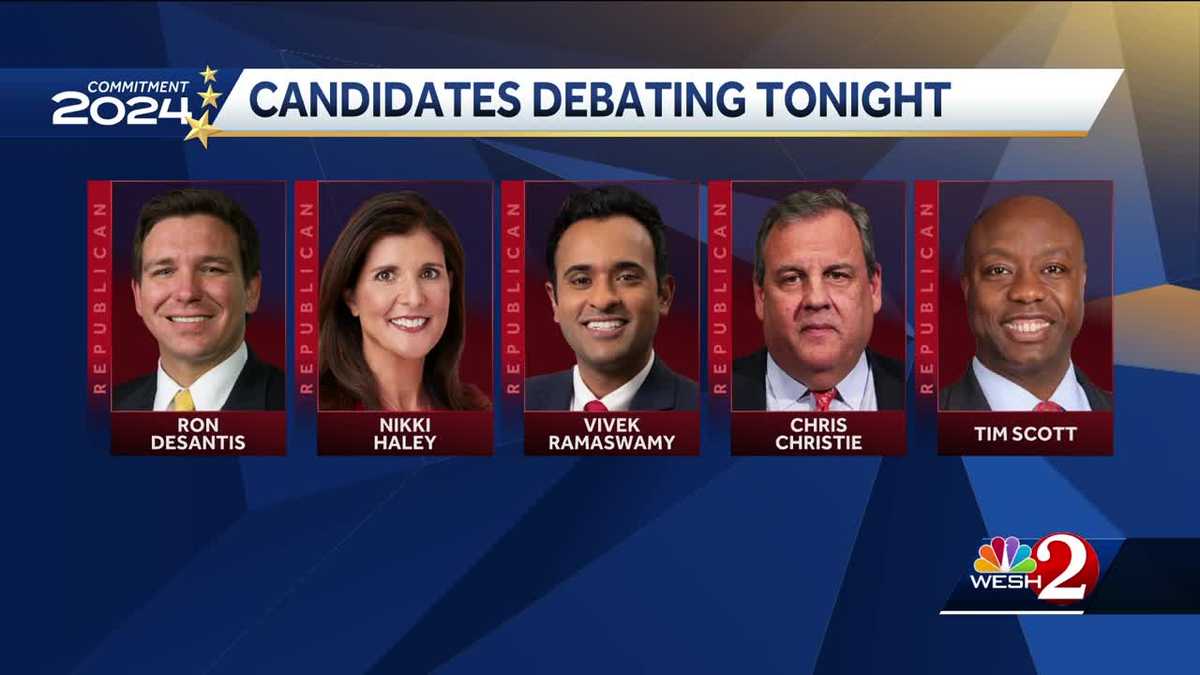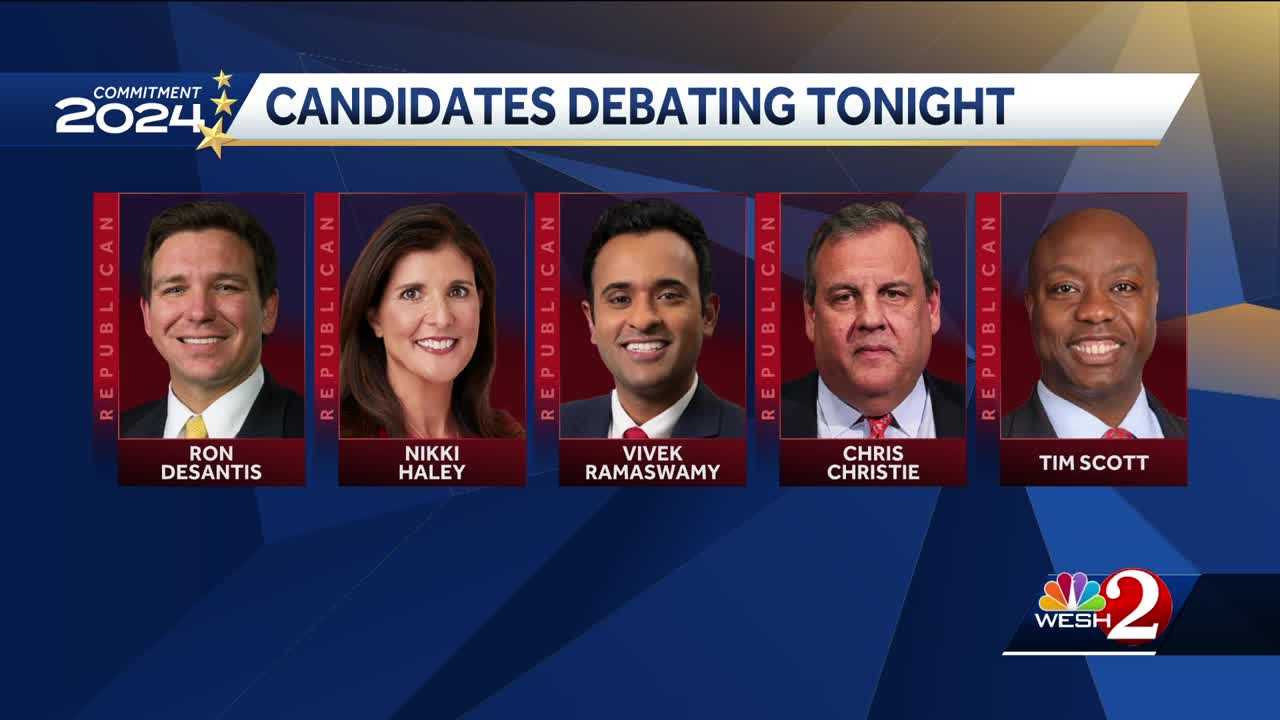 The third debate among the Republican contenders for president will air right here on WESH 2 and is hosted by NBC News.Five candidates qualified, and the only person not attending is the leading candidate, Former President Donald Trump.Fewer people on the stage will give them a better chance to get their message across to GOP voters.The Arsht Center, formerly a Sears department store, originally built in 1929, is on the national register of historic places, and political history could be made Wednesday if one of the candidates can deliver a memorable moment.On Saturday, most of the leading GOP contenders made their way to Orlando for the Republican party's Florida Freedom Summit to address the race and their priorities if elected. While Florida Gov. Ron DeSantis did not mention the former president, Donald Trump called DeSantis a "wounded falling bird" in the primary race. Former South Carolina governor and former UN Ambassador Nikki Haley did not attend, citing family reasons. Two of the debate partners Wednesday are the Republican Jewish Coalition and the Christian-based Salem Radio Network, so we expect several questions on the Israeli war with Hamas, and the growing number of abortion restrictions. Our University of South Florida political expert believes Florida's governor needs to focus less on attacks and more on how he'd solve problems. "People are very weary of the negativity going on within the republican party. Going after each other is not a winning strategy. Going after Biden and democrats is a winning strategy if you plan on winning the republican primary," said Susan MacManus, a USF political expert. Monday night, DeSantis accepted the endorsement of Iowa Gov. Kim Reynolds, a former supporter of Trump, who said on social media her endorsement was disloyal and the end of her political career.DeSantis needs all the help he can get in the Hawkeye state.An October NBC News poll in Iowa, where the caucuses are scheduled for Jan. 15, shows Trump with 43%, up one percent from August.DeSantis gets 16%, down 3%.Haley is surging, up from 6% to 16%.There's not much change for Christie, Scott and Ramaswamy, all in single digits.A fourth debate has been set for Dec. 6 in Tuscaloosa, Alabama.And each candidate must register at least 6% in the polls, so after Wednesday, there could just be a couple of contenders left to try upending Trump's chance for a rematch with Joe Biden.Top headlines:All of the results for Election Day in Central FloridaFirst Raising Cane's in Orlando celebrates grand opening Ormond Beach police shot knife-wielding woman as she charged officers at park, officials say
MIAMI —
The third debate among the Republican contenders for president will air right here on WESH 2 and is hosted by NBC News.
Five candidates qualified, and the only person not attending is the leading candidate, Former President Donald Trump.
Fewer people on the stage will give them a better chance to get their message across to GOP voters.
The Arsht Center, formerly a Sears department store, originally built in 1929, is on the national register of historic places, and political history could be made Wednesday if one of the candidates can deliver a memorable moment.
On Saturday, most of the leading GOP contenders made their way to Orlando for the Republican party's Florida Freedom Summit to address the race and their priorities if elected.
While Florida Gov. Ron DeSantis did not mention the former president, Donald Trump called DeSantis a "wounded falling bird" in the primary race.
Former South Carolina governor and former UN Ambassador Nikki Haley did not attend, citing family reasons.
Two of the debate partners Wednesday are the Republican Jewish Coalition and the Christian-based Salem Radio Network, so we expect several questions on the Israeli war with Hamas, and the growing number of abortion restrictions.
Our University of South Florida political expert believes Florida's governor needs to focus less on attacks and more on how he'd solve problems.
"People are very weary of the negativity going on within the republican party. Going after each other is not a winning strategy. Going after Biden and democrats is a winning strategy if you plan on winning the republican primary," said Susan MacManus, a USF political expert.
Monday night, DeSantis accepted the endorsement of Iowa Gov. Kim Reynolds, a former supporter of Trump, who said on social media her endorsement was disloyal and the end of her political career.
DeSantis needs all the help he can get in the Hawkeye state.
An October NBC News poll in Iowa, where the caucuses are scheduled for Jan. 15, shows Trump with 43%, up one percent from August.
DeSantis gets 16%, down 3%.
Haley is surging, up from 6% to 16%.
There's not much change for Christie, Scott and Ramaswamy, all in single digits.
A fourth debate has been set for Dec. 6 in Tuscaloosa, Alabama.
And each candidate must register at least 6% in the polls, so after Wednesday, there could just be a couple of contenders left to try upending Trump's chance for a rematch with Joe Biden.
Top headlines: