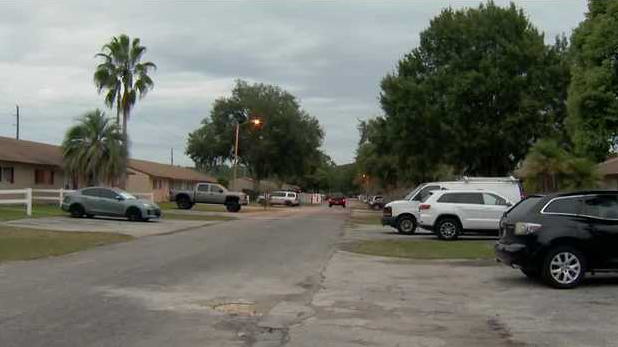 CROMBLEHOLME, WESH TWO NEWS. SCARY MOMENTS FOR STUDENTS ON A SCHOOL BUS WHEN A SHOOTING FORCED EVERYONE TO TAKE COVER. VARIOUS POLICE SAY THIS HAPPENED AROUND 330 YESTERDAY NEAR CAPTAIN HAYNES ROAD IN DEAD RIVER ROAD. SOME PEOPLE CALLED 911 ABOUT MASKED SHOOTERS NEAR AN APARTMENT COMPLEX. A LAKE COUNTY SCHOOL BUS WAS DROPPING KIDS OFF AT THE TIME. THE DRIVER TOLD THEM TO HIDE UNDER THE SEATS. POLICE SAY ONE PERSON WITH A GUNSHOT WOUND WAS BEING TREATED AT A NEARBY HOSPITAL, B
Students told to hide under bus seats as shooting breaks out near Lake County bus stop
There were scary moments for students in Lake County after Tavares police said a shooting broke out as a bus was about to drop students off. Police say it happened around 3:30 p.m. Monday near Captain Haynes Road and Dead River Road.Some people called 911 about masked shooters near an apartment complex. A Lake County School bus was dropping kids off at the time, and the driver told them to hide under the seats.Police say there were also kids playing outside at the time. Police say one person with a gunshot wound was being treated at a nearby hospital. But they are still trying to determine if that was connected to this shooting.Witnesses and those with information are asked to come forward to Tavares police. They can remain anonymous by going through Crimeline.Top headlines: Police identify Cory Hill, estranged husband of missing Winter Springs mom, as person of interest in her disappearance 1-year-old found alone on Daytona Beach, shivering and unresponsive Country music festival coming to Central Florida
TAVARES, Fla. —
There were scary moments for students in Lake County after Tavares police said a shooting broke out as a bus was about to drop students off.
Police say it happened around 3:30 p.m. Monday near Captain Haynes Road and Dead River Road.
Some people called 911 about masked shooters near an apartment complex.
A Lake County School bus was dropping kids off at the time, and the driver told them to hide under the seats.
Police say there were also kids playing outside at the time.
Police say one person with a gunshot wound was being treated at a nearby hospital. But they are still trying to determine if that was connected to this shooting.
Witnesses and those with information are asked to come forward to Tavares police. They can remain anonymous by going through Crimeline.
Top headlines: