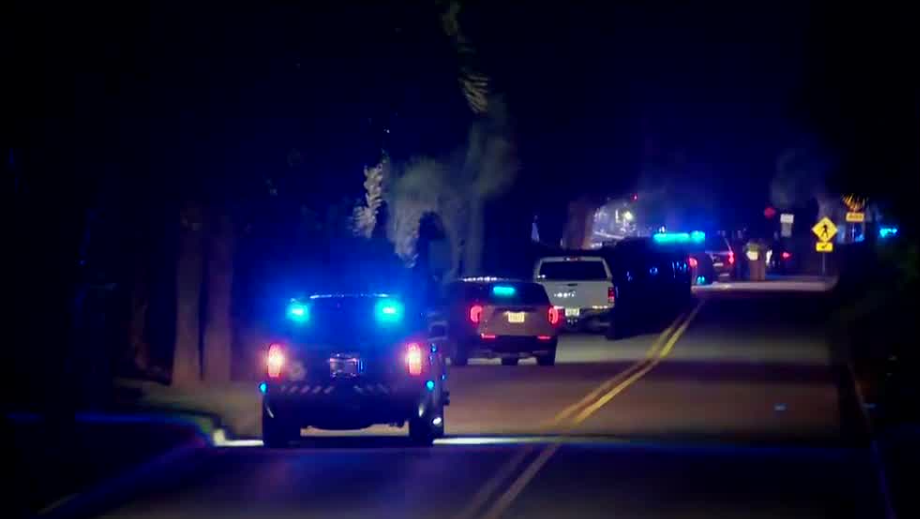 FHP: Trooper shoots suspect during chase in Flagler County
ONLINE AT WESH 2. COM STU. ALL RIGHT, SUMMER THANK YOU. MORE BREAKING NEWS TONIGHT. FDLE IS INVESTIGATING AFTER A FEMALE SUSPECT WAS SHOT BY AN FHP TROOPER, FLAGLER COUNTY. INVESTIGATORS SAY IT STARTED WITH A TRAFFIC STOP AND LED TO A CHASE. WESH 2 NEWS GAIL PASCHALL-BROWN IS LIVE NEAR THE SCENE IN PALM COAST. GAIL WHAT DO YOU KNOW SO FAR? WELL, I JUST GOT OFF THE PHONE WITH THE FLORIDA HIGHWAY PATROL PUBLIC INFORMATION OFFICER WHO TOLD ME THAT THAT FEMALE WAS SHOT BY A TROOPER. THERE WAS ONE OTHER PERSON IN THE CAR WITH THAT FEMALE SEX UNKNOWN NAMES OF EITHER NOT BEING DISCLOSED AT THIS TIME. NOW, THE FLORIDA DEPARTMENT OF LAW ENFORCEMENT IS INVESTIGATING THIS CASE, WHICH IS STANDARD OPERATING PROCEDURE. ANYTIME YOU HAVE A LAW ENFORCEMENT INVOLVED SHOOTING. LOOK DOWN THIS WAY. WE ARE A GOOD WAYS AWAY FROM WHAT'S GOING ON. BUT WE CAN TELL YOU THAT A TROOPER INITIATED A TRAFFIC STOP ON A VEHICLE AT HAMMOCK DUNES PARKWAY HERE IN FLAGLER COUNTY AROUND 540 THIS EVENING. NOW, THERE WAS A PURSUIT WHICH ENDED WITH THE SUSPECT CRASHING THE VEHICLE. THE HIGHWAY PATROL TROOPER FIRED SHOTS AFTER ATTEMPTING TO APPREHEND THE SUSPECT. THE SUSPECT IS A FEMALE WHOSE NAME HAS NOT BEEN RELEASED. SHE WAS HIT AND TAKEN TO THE HOSPITAL AT THIS POINT, WE DO NOT KNOW THAT FEMALE'S CONDITION. AND THERE WAS ALSO ONE OTHER SUSPECT IN THE CAR, ACCORDING TO FHP. AND THAT PERSON WAS NOT INJURED. NOW, THE TROOPER WAS NOT INJURED AND THERE WERE NO OTHER INJURIES TO LAW ENFORCEMENT ON THE SCENE, WHICH IS BEEN A HUGE SHOW OF LAW ENFORCEMENT HERE. NOW, WHAT WE CAN TELL YOU IS THAT RIGHT NOW, EVERYTHING GOING EAST OF THE HAMMOCK BEACH RESORT IS CLOSED. AND ANY OTHER INFORMATION AT THIS POINT IS GOING TO HAVE TO COME FROM THE FLORIDA DEPARTMENT OF LAW ENFORCEMENT. AS WE GET MORE INFORMATION, WE'LL MAKE SURE WE PASS IT ALONG TO YOU. I'M GA
FHP: Trooper shoots suspect during chase in Flagler County
Florida Highway Patrol said a suspect was shot amid a pursuit in Flagler County on Wednesday.According to FHP, a trooper initiated a traffic stop around 5:40 p.m. near Hammock Dunes Parkway. FHP told WESH 2 that a suspect crashed their vehicle during a pursuit.During the pursuit, a trooper fired shots, FHP said.The suspect, a woman who has not been identified, was injured in the shooting and taken to the hospital. WESH 2 was told one other suspect was in the vehicle, and was not injured. According to FHP, the trooper was not hurt.The Florida Department of Law Enforcement is conducting an investigation.This is a developing story. Stay with WESH 2 for updates.Top headlines:Family says Florida father of 4 died saving sons from electrified fountainSheriff: Florida man survives after woman he met on social media slashed his throat, threw him off bridgeCrews called to Disney resort after report of possible chemical exposure
FLAGLER COUNTY, Fla. —
Florida Highway Patrol said a suspect was shot amid a pursuit in Flagler County on Wednesday.
According to FHP, a trooper initiated a traffic stop around 5:40 p.m. near Hammock Dunes Parkway.
FHP told WESH 2 that a suspect crashed their vehicle during a pursuit.
During the pursuit, a trooper fired shots, FHP said.
The suspect, a woman who has not been identified, was injured in the shooting and taken to the hospital. WESH 2 was told one other suspect was in the vehicle, and was not injured.
According to FHP, the trooper was not hurt.
The Florida Department of Law Enforcement is conducting an investigation.
This is a developing story. Stay with WESH 2 for updates.
Top headlines: