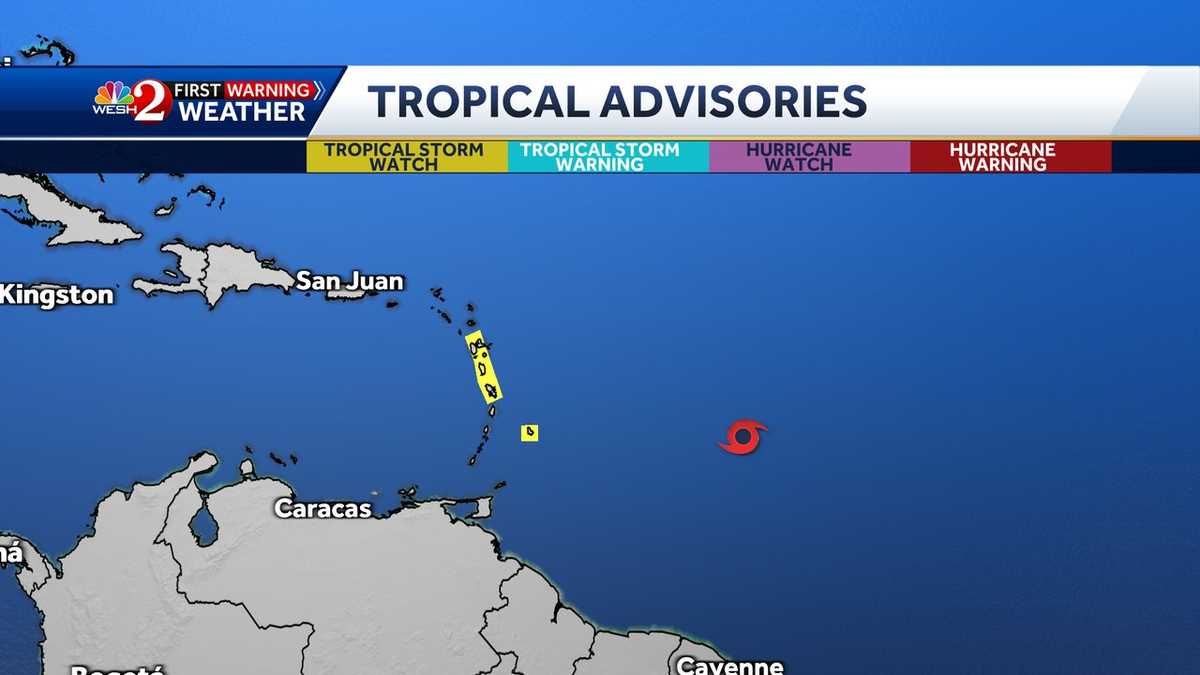 Tropical Storm Tammy forms in Atlantic
GO. BUT IT'S FLORIDA, SO YOU NEVER KNOW. PERFECT. LET'S HOPE THERE'S NOT A WARM UP HERE. TONY. THIS IS IT, RIGHT? WE'VE ARRIVED. WE HAVE ARRIVED. WE ARRIVED. IT'S GOING TO BE IN THE LOW 80S, BUT THE HUMIDITY IS GOING TO BE IN CHECK. SO WE'RE GOING TO BE IN GREAT SHAPE. LOOK AT ALL THE DRY AIR IN THAT WATER VAPOR CHANNEL ACROSS THE CENTRAL FLORIDA PENINSULA. AND YOU CAN SEE A FEW SHOWERS THERE. INDIAN RIVER COUNTY JUST SOUTH OF PALM BAY AND GRAND VALKARIA BAREFOOT BAY. TEMPERATURES ALONG THE COAST RANGING FROM 73 PALM COAST TO 80IN PALM BAY OFFICIALLY HIT 79 IN ORLANDO. BUT AREA WIDE, LOOK AT THE JUMP IN THE TEMPERATURES TODAY, ANYWHERE FROM FOUR TO AS MUCH AS NINE DEGREES WARMER THAN THIS TIME YESTERDAY DAY. LOOK AT THE WINDS. NORTHEAST HAVING A BIG PART OF THAT INCREASE. YOU START TAKING THE AIR AND PULLING IT IN OFF OF THE ATLANTIC WATERS WHERE THE WATER TEMPERATURES ARE RUNNING IN THE MIDDLE TO THE UPPER 70S. YOU BEGIN TO MODERATE THE TEMPERATURES, ESPECIALLY AT NIGHT. YOU'LL SEE THOSE COASTAL COMMUNITIES A BIT WARMER THAN THROUGH THE INTERIOR. SO WE DO DROP OFF BETWEEN 10 AND 11:00 DROPPING TO ONLY TO ABOUT 61. A NORMAL LOW FOR US IS ABOUT 64, 65. OCALA, 53, DAYTONA BEACH ONLY FALLING TO ABOUT THE 60 DEGREE MARK. NOW, WHEN WE TAKE A LOOK AT OCALA HERE, 9 A.M., TEMPERATURE OF 61, 3:00, TEMPERATURE RIGHT AT ABOUT 80 DEGREES. AND IN BETWEEN THERE MIGHT GET TO 81 OR MAYBE EVEN 82. NOTICE THE FUTURE CAST HERE, THE WINDS COMING IN OUT OF THE EAST, SOUTHEAST. A FEW CLOUDS COMING IN DURING THE AFTERNOON. WE SHOULD BE RAIN FREE AS THE AIR IS STILL RELATIVELY DRY AND WE'LL START TO MOISTEN THINGS UP A LITTLE BIT AS WE GET YOU INTO FRIDAY AFTERNOON. A FRONT ARRIVES LATE, MAYBE A SPRINKLE NORTH OF TOWN, VERY LATE IN THE AFTERNOON, UP NORTH TOWARDS THE EVENING, UP TOWARDS PALM COAST. BUT THE METRO AREAS, WE SHOULD BE IN PRETTY GOOD SHAPE, FRONT KIND OF SNEAKS ON THROUGH OVERNIGHT FRIDAY INTO VERY EARLY SATURDAY MORNING, SETTING THE STAGE FOR A GORGEOUS WEEKEND. NOW, TEMPS TOMORROW, THURSDAY AFTERNOON, 79, PALM COAST, 82, LEESBURG 82, WILDWOOD AGAIN, MUCH CLOSER TO WHERE WE SHOULD BE FOR TEMPERATURES THIS TIME OF THE YEAR. ANOTHER ROUND OF GOLF IN THE OFFING FOR SURE. FOR MANY OF YOU AS GOLFING CAPITAL OF THE UNITED STATES RIGHT HERE IN CENTRAL FLORIDA, WEATHER IMPACT, LOW WEATHER, PERFECT 67IN THE MORNING, 83 BY THE AFTERNOON, WE TAKE A LOOK AT THE FOOTBALL FORECAST. A COUPLE MORE GAMES HERE FOR YOU. WE'VE TAKEN OUT THE MENTION OF ANY SIGNIFICANT RAIN, MAYBE A QUICK SPRINKLE, A TEMPERATURES FALLING BACK TO ABOUT 71 FOR THAT TITANS MATCH UP. AND THEN FOR THE MUSTANGS AND THE FIGHTING TIGERS 7773. MAYBE A QUICK SPRINKLE ON INTO THE WEEKEND. HERE WE GO. FRONT DROPS WELL OFF TOWARDS THE SOUTH AND THE EAST. AND THAT FRONT'S GOING TO BE A SIGNIFICANT INT ELEMENT THERE BECAUSE IT'S GOING TO KEEP TROPICAL STORM TAMMY AWAY FROM THE UNITED STATES THROUGH THE WEEKEND. MAYBE A SPRINKLE ON FRIDAY NIGHT. OTHERWISE, BIKETOBERFEST LOOKING GOOD. SPEAKING OF TAMMY HERE IT IS MOVING OFF NOW TOWARDS THE WEST AT ABOUT 23 MILES AN HOUR WAITING ON THAT NEW TRACK AND ANY WATCHES AND WARNINGS THAT COULD BE COMING OUT SHOULD BE ANY MINUTE NOW. BUT TWO CAMPS IN THOSE MODELS, ONE GETTING CLOSE TO SAN JUAN. THE OTHER GOING RIGHT ACROSS THE NORTHERN WINDWARD ISLES. AND WE'LL HAVE TO WATCH THAT BECAUSE MANY OF THE INTENSITY FORECASTS DO BRING THIS TO A CATEGORY ONE HURRICANE. SO WE'LL WATCH THAT. FOR THOSE OF YOU WITH LOVED ONES IN THAT PART OF THE GLOBE, 83, 82, 84, 84. BUT REMEMBER, HUMID CITY THIS WEEKEND FOR ALL OF THOSE OUTDOOR HALLOWEEN EVENTS IS GOING TO BE
Tropical Storm Tammy forms in Atlantic
On Wednesday, Invest 94-L strengthened into a tropical storm, according to the National Hurricane Center. Tropical Storm Tammy is currently located 575 miles east of the Windward Islands. "On the forecast track, the center of Tammy will move near or over the Leeward Islands Friday and Saturday," the NHC said. "Gradual strengthening is forecast during the next couple of days." [/twitter]A tropical storm watch is in effect for:BarbadosDominicaMartinique and Guadeloupe"Heavy rains from Tammy will begin to affect the northern Windward and Leeward Islands on Friday, spreading into the British and U.S. Virgin Islands and Puerto Rico over the weekend," the NHC said. Related: How to make your family and home safe for hurricane seasonRelated: WESH 2 Hurricane Survival Guide 2023Related: WESH 2 2023 Hurricane Season Forecast
ORLANDO, Fla. —
On Wednesday, Invest 94-L strengthened into a tropical storm, according to the National Hurricane Center.
Tropical Storm Tammy is currently located 575 miles east of the Windward Islands.
"On the forecast track, the center of Tammy will move near or over the Leeward Islands Friday and Saturday," the NHC said. "Gradual strengthening is forecast during the next couple of days."
This content is imported from Twitter.
You may be able to find the same content in another format, or you may be able to find more information, at their web site.
A tropical storm watch is in effect for:
Barbados
Dominica
Martinique and Guadeloupe
"Heavy rains from Tammy will begin to affect the northern Windward and Leeward Islands on Friday, spreading into the British and U.S. Virgin Islands and Puerto Rico over the weekend," the NHC said.
Related: How to make your family and home safe for hurricane season
Related: WESH 2 Hurricane Survival Guide 2023
Related: WESH 2 2023 Hurricane Season Forecast