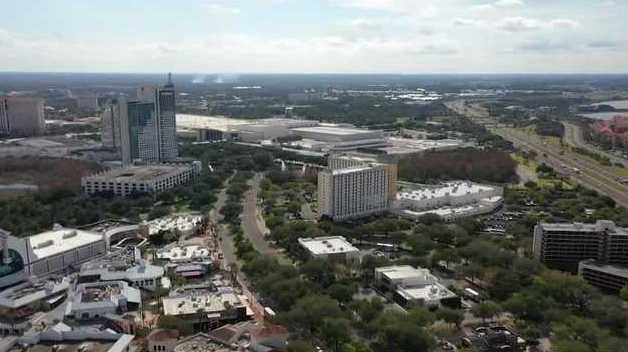 Central Florida events: Festivals, outdoor movies and more coming up this weekend
THIS WEEKEND, THE ANNUAL COME OUT WITH PRIDE FESTIVAL AND PARADE RETURNS TO DOWNTOWN ORLANDO. TATIANA QUIROGA IS THE EXECUTIVE DIRECTOR, HAVE COME OUT WITH PRIDE. THEY ARE THE NONPROFIT THAT PUTS ON THAT EVENT. AND SHE JOINS US THIS MORNING HERE IN THE STUDIO. GOOD MORNING. THANKS FOR BEING WITH US. GOOD MORNING. THANK YOU SO MUCH FOR HAVING ME. AN EXCITING WEEK. WE'RE JUST THE COUNTDOWN IS ON. WE'RE DAYS AWAY FROM COMING OUT WITH PRIDE. TELL US A LITTLE BIT ABOUT THIS ANNUAL PARADE AND FESTIVAL THAT HAPPENS IN DOWNTOWN ORLANDO. OH, MY GOODNESS. HOURS AWAY AT THIS POINT. SO THIS SATURDAY COME OUT WITH PRIDE. AS YOU KNOW, IS HAPPENING AT LAKE EOLA IN THE HEART OF ORLANDO. WE'RE SO ABSOLUTELY THRILLED THAT WE CAN CONTINUE THIS PRIDE CELEBRATION, ESPECIALLY AFTER THIS YEAR THAT HAS BEEN SO CHALLENGING FOR THE LGBTQ PLUS COMMUNITY, ESPECIALLY OUR TRANS SIBLINGS. AND SO WE HAVE MOVED FORWARD WITH PLANNING BECAUSE OF THE CONFIDENCE THAT WE HAVE IN THE SUPPORT THAT WE HAVE FROM FROM THE CITY, FROM ORANGE COUNTY AND EVEN ORANGE COUNTY SHERIFFS. SO WE ARE GOING FULL THROTTLE JUST, YOU KNOW, CELEBRATING ON SATURDAY. OUR FESTIVAL STARTS AT NOON. WE'VE GOT TWO STAGES OF ALL DAY ENTERTAINERS AREN'T THE MOST COLORFUL PARADE. THAT'S PRESENTED BY RF KICKS OFF AT 4:00. AND THEN WE'VE GOT OUR HEADLINERS IN THE EVENING AND THEN WE END THE DAY WITH A FIREWORKS SHOW AT 930. A LOT OF FUN TO BE HAD ALL ACROSS LAKE EOLA. AND SOME OF THOSE NEIGHBORHOODS SURROUNDING IT. SO TELL US A LITTLE BIT YOU KNOW, A LOT OF PEOPLE ASSOCIATE THE JUNE WITH LGBT PRIDE MONTH AND FESTIVALS. WHY DOES ORLANDO HAVE THEIR FESTIVAL IN OCTOBER? WELL, YOU KNOW, WE LIKE TO BE OUT OF THE BOX, SO THERE'S NOTHING, YOU KNOW, TYPICAL ABOUT ORLANDO. SO WHY SHOULD OUR PRIDE BE ANY DIFFERENT? RIGHT. SO, YOU KNOW, ONE OF THE THINGS AS AN ORGANIZATION, LITTLE ITALY, OUR NAME HAS COME OUT WITH PRIDE. SO THAT REALLY STARTED AS AN OBSERVANCE OF NATIONAL COME OUT DAY. YOU KNOW, WE REALLY WANT TO MAKE SURE THAT WE REALLY MARK THE IMPORTANCE OF THAT DAY. PLUS, IT'S LGBTQ PLUS HISTORY MONTH AND IT'S REALLY HOT IN JUNE. SO I COULDN'T IMAGINE TRYING TO DO A PARADE IN THE MIDDLE OF JUNE. NO WAY TOO HOT. AND WE'RE SUPER EXCITED HERE AT WESH. NOT ONLY WILL WE BE WALKING IN THE PARADE, I'LL BE THERE WITH SOME OF OUR COLLEAGUES AS WELL. BUT WE'RE GOING TO BE BROADCASTING LIVE. AND THIS IS THE FIRST TIME THAT A LOCAL TV STATION IN THE ORLANDO MARKET IS BROADCASTING THE PARADE LIVE. YES, THAT IS SUCH AN EXCITING THING. WE STARTED THESE CONVERSATIONS WITH YOU GUYS LAST YEAR AND IT'S SO INCREDIBLE THAT ONE YEAR LATER WE'RE ABLE TO BRING THIS TO FRUITION. WE'RE SO EXCITED AND SO GRATEFUL FOR THE PARTNERSHIP THAT WE HAVE WITH WESH AND JUST TO BE ABLE TO SEE THAT, YOU KNOW, THAT THIS THIS REALLY CAME TOGETHER AS A WAY TO REALLY REPRESENT AND HIGHLIGHT THE LGBTQ PLUS COMMUNITY. SO THANK YOU KNOW, I GREW UP IN ORLANDO. IT MEANS SO MUCH ON A PROFESSIONAL AND A PERSONAL LEVEL THAT THE TV STATION IS BROADCAST THIS LIVE. I THINK IT'S GOING TO MEAN A LOT TO A LOT OF PEOPLE IN OUR CENTRAL FLORIDA REGION AS WELL. YOU TALKED ABOUT THIS A LITTLE BIT EARLIER. YOU KNOW, SOME PARADES HAVE BEEN CANCELED AND PARTS OF FLORIDA THIS YEAR GIVEN THE RHETORIC THAT'S HAPPENING IN TALLAHASSEE AND SURROUNDING A LOT OF DIFFERENT ISSUES ACROSS THE STATE, WHY DID ORLANDO DECIDE TO GO FULL THROTTLE? WELL, YOU KNOW, THE THING ABOUT IT IS THAT, YOU KNOW, THE BOARD AND I DECIDED VERY EARLY ON IN THE YEAR BEFORE WE SAW THE LEGISLATION COMING DOWN. SO BEFORE IT PASSED, WE KNEW THAT WE HAD TWO POINTS OF PRIORITY FOR US. WE HAVE BEEN AND ALWAYS WILL BE A FAMILY FRIENDLY EVENT. YOU KNOW, THERE IS NO WAY THAT WE COULD NOT INCLUDE. YOU'VE GOT TWO YOUNG KIDS. EXACTLY. AS A PARENT, I'VE GOT TO BE ABLE TO BRING MY CHILDREN TO PRIDE. YOU KNOW, THEY PRIDE FOR US AS A FAMILY HAS BEEN A FAMILY TRADITION. AND IT'S PART OF OUR FABRIC. IT'S PART OF OUR CULTURE. SO YOU NOT INCLUDING FAMILIES WAS NOT AN OPTION. YEAH. AND AT THE SAME TIME, WE WERE GOING TO STAND IN SOLIDARITY WITH THE DRAG COMMUNITY. WE DIDN'T KNOW HOW THAT WAS GOING TO HAPPEN. WE DEFINITELY HAD A LOT MORE QUESTIONS THAN ANSWERS, BUT WE KNEW THAT THOSE TWO THINGS WERE THE PILLAR OF WHO WE ARE AS AN ORGANIZATION. AND SO WE STARTED MARCHING ON AGAIN, NOT NECESSARILY KNOWING HOW IN THE WORLD WE WERE GOING TO DO IT, BUT BUT WITH THE SUPPORT OF THE CITY, WITH THE SUPPORT OF THE COUNTY, YOU KNOW, WE KNOW THAT ORLANDO HAS ALWAYS AND ALWAYS WILL BE A ACCEPTING AND INCLUSIVE CITY. AND EVEN COUNTY. SO, YOU KNOW, HAVING THESE REALLY WONDERFUL, PRODUCTIVE CONVERSATIONS WITH MAYOR DYER AND MAYOR DEMINGS AND WITH THAT SUPPORT, WE KNEW THAT WE WERE ABLE TO MOVE FORWARD WITH SUCH CONFIDENCE. AND AT THE SAME TIME, THIS IS WHO WE ARE. THIS IS ORLANDO. SO WE ARE ORLANDO STRONG. WE ARE KEEP DANCING, ORLANDO, YOU KNOW, ANY KIND OF, YOU KNOW, CHALLENGES OR OBSTACLES THAT WE FACED, WE'VE ALWAYS OVERCOME THEM. WE'VE ALWAYS LOOKED AT THOSE PARTS OF CITIES TO BE ABLE TO GROW FROM THEM AND BE STRONGER TOGETHER. SO THAT'S WHY THIS YEAR IT REALLY EVEN MATTERED THAT MUCH MORE TO MAKE SURE THAT PRIDE WAS HAPPENING. ALL RIGHT. FIGHTING FOR IT FOR ANOTHER YEAR. TATIANA QUIROGA, THANK YOU SO MUCH FOR JOINING US. WE'VE GOT MORE INFORMATION ABOUT THE PARADE RIGHT HERE. IN ADDITION TO WALKING, AS I MENTIONED, WESH 2 WILL BE BROADCASTING THE PARADE FOR THE FIRST TIME EVER. PLEASE, PLEASE, PLEASE JOIN US ON THE LIVE STREAM ON WESH.COM. COM AT 4 P.M. MICHELLE IMPERATO AND MICHELLE MEREDITH WILL BE HOSTIN
Central Florida events: Festivals, outdoor movies and more coming up this weekend
Several different events are coming up this weekend in Central Florida. Check out some of this weekend's events below: Come Out With Pride festivalWhat: Enjoy a pride festival and parade in Orlando, where there will be live entertainment, food trucks and fireworks. When: Oct. 21 from 12 p.m. to 10 p.m.Where: Lake Eola Park"Science Night Dead"What: The Orlando Science Center is hosting an event featuring a spooky trivia, guest speakers and more. Note: This event is for people age 21 and older. When: Oct. 21 from 8 p.m. to 11:30 pmWhere: Orlando Science CenterFall and Halloween-themed events:The Night Market at ZombietoberfestWhat: Attendees can look forward to music, costume contests and an outdoor movie.When: Oct. 21. from 5 to 10 p.m.Where: Audubon Park Garden District, Corrine Drive, Orlando, FL 32803Howl-o-Ween Dog Walk-a-thonWhat: Raffles, vendors and a canine costume contest are included in this Altamonte Springs event.When: Oct. 21 from 9 a.m. to noonWhere: Cranes Roost Park in Altamonte Springs Halloween ExperienceWhat: Winter Garden Halloween celebration includes several different activities. Families will be able to enjoy a hay maze, Halloween light show, crafts and performances.When & Where: Find the full event schedule and locations in Winter Garden here.Turkey Creek Fall Art ShowWhat: At the Turkey Creek Fall Art Show, vendors will be displaying handcrafted items.When: Oct. 21 from 8:30 a.m. to 2:30 p.m.Where: Tony Rosa Community Center in Palm BaySilver Springs State Park Trunk-or-TreatWhat: Prizes, candy and games are featured in an Ocala trunk-or-treat.When: Oct. 22 at 2 p.m.Where: Silver Springs State Park in OcalaSpooky Saturday Movie at the PoolWhat: Attendees will be able to swim in the pool, play games, and then enjoy a movie, "Casper," which will start at 6:45 p.m.When: Oct. 21 from 5 to 8:30 p.m.Where: Palm Bay Aquatic Center Fall Music FestivalWhat: Restaurants and businesses along Flagler Avenue will have a variety of music.When: Oct. 19 – Oct. 22Where: Flagler Avenue in New Smyrna Beach Eustis Fall FestivalWhat: Families can enjoy different activities and a costume contest at this Eustis fall event.When: Oct. 21 from 3-7 p.m.Where: Ferran Park in Eustis Not Too Scary HalloweenWhat: Participate in Halloween-themed games, a costume contest and trick or treating.When: Oct. 21 from 6-8 p.m.Where: Guava Street Athletic Complex in Lady Lake
ORLANDO, Fla. —
Several different events are coming up this weekend in Central Florida.
Check out some of this weekend's events below:
What: Enjoy a pride festival and parade in Orlando, where there will be live entertainment, food trucks and fireworks.
When: Oct. 21 from 12 p.m. to 10 p.m.
Where: Lake Eola Park
What: The Orlando Science Center is hosting an event featuring a spooky trivia, guest speakers and more. Note: This event is for people age 21 and older.
When: Oct. 21 from 8 p.m. to 11:30 pm
Where: Orlando Science Center
Fall and Halloween-themed events:
What: Attendees can look forward to music, costume contests and an outdoor movie.
When: Oct. 21. from 5 to 10 p.m.
Where: Audubon Park Garden District, Corrine Drive, Orlando, FL 32803
What: Raffles, vendors and a canine costume contest are included in this Altamonte Springs event.
When: Oct. 21 from 9 a.m. to noon
Where: Cranes Roost Park in Altamonte Springs
What: Winter Garden Halloween celebration includes several different activities. Families will be able to enjoy a hay maze, Halloween light show, crafts and performances.
When & Where: Find the full event schedule and locations in Winter Garden here.
What: At the Turkey Creek Fall Art Show, vendors will be displaying handcrafted items.
When: Oct. 21 from 8:30 a.m. to 2:30 p.m.
Where: Tony Rosa Community Center in Palm Bay
What: Prizes, candy and games are featured in an Ocala trunk-or-treat.
When: Oct. 22 at 2 p.m.
Where: Silver Springs State Park in Ocala
What: Attendees will be able to swim in the pool, play games, and then enjoy a movie, "Casper," which will start at 6:45 p.m.
When: Oct. 21 from 5 to 8:30 p.m.
Where: Palm Bay Aquatic Center
What: Restaurants and businesses along Flagler Avenue will have a variety of music.
When: Oct. 19 – Oct. 22
Where: Flagler Avenue in New Smyrna Beach
What: Families can enjoy different activities and a costume contest at this Eustis fall event.
When: Oct. 21 from 3-7 p.m.
Where: Ferran Park in Eustis
What: Participate in Halloween-themed games, a costume contest and trick or treating.
When: Oct. 21 from 6-8 p.m.
Where: Guava Street Athletic Complex in Lady Lake