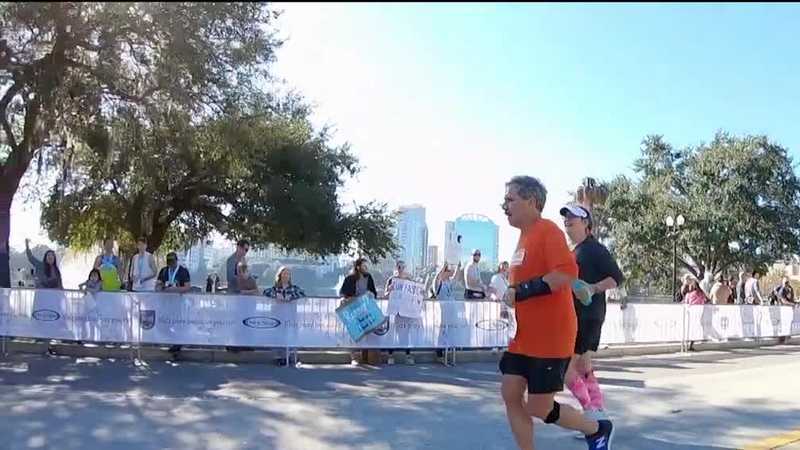 Two runners have participated in every OUC Orlando Half Marathon since 1977
FROM THE U.S. ORLANDO HALF MARATHON, A RACE THAT'S BEEN HAPPENING IN DOWNTOWN ORLANDO SINCE 1977. TRACK SHACK HAS BEEN THERE SINCE THE BEGINNING, AND SO HAVE TWO GUYS THAT STEWART MOORE RECENTLY CAUGHT UP WITH WHO ARE GETTING READY FOR THEIR 47TH CONSECUTIVE RACE DAY. THIS IS THE OLDEST ONE I HAVE. THAT'S AN UGLY SHIRT. YEAH. GARY KANE AND ALAN MUSANTE ARE BOTH IN THEIR 70S I HAVE TO ASK YOU GUYS AGES, HOW OLD ARE YOU? I'M 73. I'M 75. AND IF YOU BLINK, YOU MIGHT MISS THESE 70 PLUS YEAR OLD MEN ZOOMING BY YOU AT THE HALF MARATHON. WE RUN ALL THE TIME. WELL, I'LL WALK ALL THE TIME. YEAH. I MEAN, I'M OUT EVERY WEEKEND, ALL YEAR LONG. YOU KNOW? AND I KEEP TRYING BECAUSE I'M NOT READY TO GIVE UP. AND THIS MAN, HE'S AN ANIMAL. I DON'T KNOW ABOUT THAT. WELL, I. YEAH, I'M WALKING EVERY DAY AND BICYCLING EVERY DAY AND KAYAKING AND AND STANDUP PADDLEBOARDING A COUPLE TIMES A WEEK. IT'S JUST WHAT I'VE ALWAYS DONE. HARRY KANE OUT THERE. WELL, SPEED MAY NOT BE WHERE THEY WIN THE RACE READY BUT STAMINA THESE TWO HAVE EXPERIENCED RUNNERS SAY, I GUESS YOU COULD SAY SINCE THE FIRST STARTING GUN WENT OFF IN THIS RACE IN 1977. THESE TWO HAVE LINED UP TO RUN EVERY SINGLE ONE OF THEM. THE VERY FIRST RACE WE ACTUALLY STARTED BY LAKE IVANHOE AND RAN STRAIGHT DOWN ORANGE AVENUE TO PINE CASTLE, RIGHT DOWN ORANGE AVENUE AND TURNED AROUND AND CAME BACK AND CAME BACK. AND A LOT OF IT, WE WERE IN THE MIDDLE OF THE ROAD WITH TRAFFIC ON BOTH SIDES. YEAH. AND THEN THERE WERE SOME PEOPLE GOT BLOCKED BY THE TRAIN BECAUSE THE TRAIN CAME BY AND THEY COULDN'T CROSS THE TRACKS UNTIL THE TRAIN WENT BY. SO THEY, YOU KNOW, THEY DIDN'T GET A THEY DIDN'T GET A HANDICAP BECAUSE OF THE TRAIN. BUT I REMEMBER THAT MORE THAN TWO DECADES WENT BY BEFORE THE TWO BECAME AWARE OF EACH OTHER IN THE FIELD WITH HUNDREDS OF OTHERS. BUT NOW IT'S BECOME A BROTHERHOOD AND BOND THEY SHARE YEAR AFTER YEAR. WHEN YOU GUYS HIT 50 AND I SAY WHEN? BECAUSE IT'S GOING TO HAPPEN. OH YEAH, HOW'S THAT MOMENT GOING TO FEEL? IT'S GOING TO FEEL LIKE, THANK GOD I'M NOT DOING THIS ANYMORE. YEAH. AND I'M EMOTIONAL EVERY TIME I FINISH EVEN THINK ABOUT FINISHING BECAUSE EVERY YEAR I'M NOT SURE IF I CAN DO IT ANYMORE. YEAH, I'M WALKING MORE SLOWLY THAN I USED TO AND I'M TRYING TO MIX IN SOME RUNNING AND SOMETIMES IT GOES WELL AND SOMETIMES IT DOESN'T. AT THIS POINT, IT'S NOT ABOUT THE ACCOLADES OR THE MEDALS. IT'S ABOUT BEING THERE, STAYING ON THE COURSE. THEY SET OUT ON MORE THAN 45 YEARS AGO. I CAN'T BELIEVE I'VE RUN ALL THESE RACES. STEWART MOORE. WESH 2 NEWS. THIS IS MY FAVORITE STORY SO FAR. I LOVE THEM. IF YOU WANT TO RUN WITH GARY AND ALAN ON DECEMBER 2ND, YOU CAN REGISTER. STATION IS STILL OPEN FOR BOTH THE HALF AND THE HALF MARATHON AND THE FIVE K, SO IF YOU WANT TO DO THE HALF, YOU CAN DO THAT. IF YOU'RE IF IT'S INTIMIDATING BECAUSE IT IS, IT'S 13.1 MILES. YOU CAN DO THE FIVE K, YOU CAN ALSO FIND REGISTRATION OPEN ON OUR WEBSITE. THERE'S A LINK THERE FOR YOU ON WESH.COM. ALL YOU HAVE T
Two runners have participated in every OUC Orlando Half Marathon since 1977
We are now less than a month away from the OUC Orlando Half Marathon, a race that's been happening in downtown Orlando since 1977.Track Shack has been there since the beginning and so have two guys WESH 2 recently caught up with who are getting ready for their 47th consecutive race day.Watch the full interview above.Related articles below:Preparing for the OUC Half Marathon with speed workoutsHow to find the proper gear for OUC Orlando Half MarathonPreparing for the OUC Orlando Half Marathon: Nutrition and training tips
ORLANDO, Fla. —
We are now less than a month away from the OUC Orlando Half Marathon, a race that's been happening in downtown Orlando since 1977.
Track Shack has been there since the beginning and so have two guys WESH 2 recently caught up with who are getting ready for their 47th consecutive race day.
Watch the full interview above.
Related articles below: