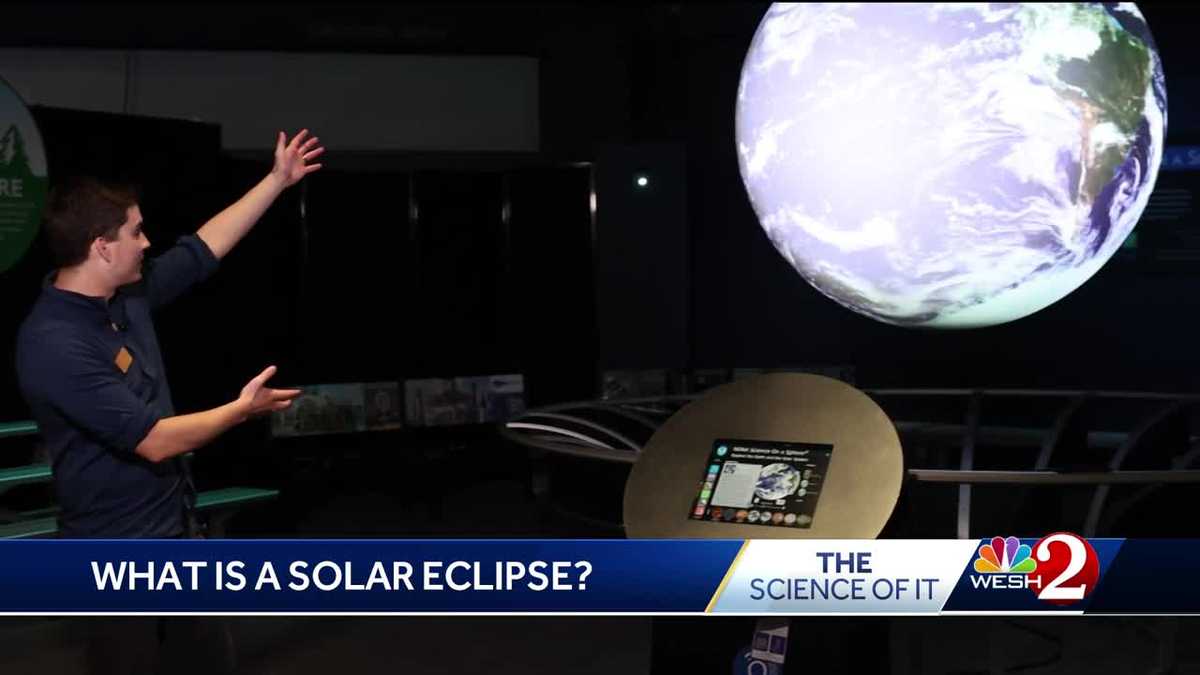 The Science Of IT: What Is A Solar Eclipse?
THIS UPCOMING SUNDAY, WE ARE GETTING READY TO EXPERIENCE A SOLAR ECLIPSE. YES, BUT WHAT EXACTLY IS THAT AND HOW RARE IS AN ECLIPSE? WELL, METEOROLOGIST ERIC BURRIS JOINING US NOW BECAUSE, ERIC, YOU WENT TO THE ORLANDO SCIENCE CENTER TO FIND OUT. YEAH, THERE'S KIND OF THIS WEIRD THING HAPPENING WHERE YOU'RE GOING TO GET THE MOON PASSING IN BETWEEN THE EARTH AND THE SUN. SO BROAD DAYLIGHT AND THEN NOT SO BROAD DAYLIGHT. TAKE A LISTEN. HEY THERE. WELCOME TO THE SCIENCE OF IT. I'M WESH 2 METEOROLOGIST AND NERD ERIC BURRIS HERE AT THE SCIENCE CENTER WITH XANDER AND XANDER. SOMETHING KIND OF NEAT HAPPENING UP IN THE COSMOS HERE. SOON THERE IS. WE'RE GETTING READY FOR AN ECLIPSE DAY. THAT'S ABOUT TO HAPPEN. SO HOW WERE YOU ABLE TO SEE THE ECLIPSE THAT HAPPENED A FEW YEARS BACK? ABSOLUTELY. YEAH. VERY COOL. IT WAS SUPER INTERESTING. AND WHAT HAPPENS DURING THE ECLIPSE IS IT GETS REALLY DARK OUT AND WE'RE ACTUALLY GOING TO DEMONSTRATE EXACTLY WHAT'S GOING ON THERE BY TURNING YOU INTO TO THE SUN. LOVE IT. ACTUALLY, YOU'RE NOT NEARLY BRIGHT ENOUGH, ACTUALLY. LET'S LET'S GET OUT THAT FLASHLIGHT AND TURN YOU INTO THE REAL SUN. WE'RE GOING TO DO THIS FOR REAL THIS TIME. YEAH. ALL RIGHT. SO WE GOT A SUPER POWERED FLASHLIGHT RIGHT HERE, WHICH IS GOING TO TAKE THE PLACE OF OUR SUN. AND RIGHT OVER HERE, WE HAVE OUR EARTH AND AS YOU CAN SEE, OUR EARTH. IT'S SUPER BRIGHT RIGHT NOW. THAT LIGHT FROM THE SUN IS REACHING IT BEAUTIFULLY. BUT DURING AN ECLIPSE, SOMETHING HAPPENS. YEAH, RIGHT HERE. I'VE GOT A MODEL OF OUR FRIEND, THE MOON. AND DURING AN ECLIPSE, THAT LIGHT FROM THE SUN ACTUALLY GETS INTERRUPTED BY THAT MOON CROSSING DIRECTLY IN FRONT OF THE EARTH AND THE SUN BLOCKING OUT ALL THAT LIGHT. MEANING THAT THE SUN'S LIGHT DOESN'T ACTUALLY REACH THE EARTH. AND IT BECOMES REALLY DARK JUST FOR A MOMENT, RIGHT? WHICH IS REALLY COOL PHENOMENON TO BE ABLE TO SEE. NOW, IT DOESN'T HAPPEN EVERY MONTH THE MOON GOES AROUND THE EARTH EVERY MONTH. SO WHY DOESN'T THIS HAPPEN EVERY MONTH? WELL, THAT'S A GREAT QUESTION. SO, YEAH, JUST LIKE YOU SAID, THE MOON ORBITS AROUND OUR EARTH ONCE A MONTH. BUT IT DOESN'T ALWAYS ORBIT IN THAT PERFECT LINE RIGHT IN BETWEEN THE EARTH AND THE SUN. JUST SORT OF LIKE THIS. INSTEAD, AT SOME POINTS, THE MOON'S ORBIT IS ACTUALLY BELOW THAT LINE IN BETWEEN THE EARTH AND THE SUN. AT OTHER TIMES IT'S GOING TO BE ABOVE WHERE THE EARTH AND THE SUN ARE. AND WHENEVER IT GETS JUST RIGHT, RIGHT IN BETWEEN, WHICH DOESN'T HAPPEN VERY OFTEN, THEN WE GET THAT REALLY COOL EVENT CALLED AN ECLIPSE. NOW, HERE IN FLORIDA, WE'RE NOT GOING TO BE ABLE TO SEE A COMPLETE ECLIPSE. SO WE'RE GOING TO BE ABLE TO SEE ABOUT 60% OF THE SUN BLOCKED OUT BY THE MOON. BUT YOU'RE GOING TO BE ABLE TO VIEW THIS ECLIPSE ANYWHERE FROM UP TO OREGON DOWN TO TEXAS. YEAH. SO IT'S GOING TO BE A REALLY COOL PHENOMENA FOR MILLIONS OF PEOPLE AROUND THE COUNTRY TO BE ABLE TO STEP OUT IN THEIR OWN BACKYARDS AND TAKE A LOOK RIGHT ON UP. NOW, EVEN THOUGH IT'S ONLY 60%, IT'S NEVER A GOOD IDEA TO JUST GO LOOK AT THE SUN WITH YOUR BARE EYES. THAT'S A TERRIBLE IDEA. SO THE ORLANDO SCIENCE CENTER HAS ACTIVITIES THAT YOU GUYS ARE DOING HERE. AND EVEN ON YOUR WEBSITE. OH, EXACTLY. YEAH. IF YOU GO TO OSCAR NOYA. ORG, WE HAVE ALL SORTS OF INFORMATION ABOUT WHAT WE'RE DOING HERE AT THE SCIENCE CENTER FOR ECLIPSE DAY, BUT THERE'S ALSO THINGS THAT YOU CAN DO AT HOME AS WELL, WHICH WE HAVE LOTS OF INFORMATION ABOUT THAT INCLUDING YOU REFERENCED SPECIAL ECLIPSE GLASSES THAT ALLOW YOU TO LOOK AT THE SUN SAFELY WITHOUT BURNING OUT YOUR RETINAS BECAUSE YOU NEVER WANT TO LOOK AT THE SUN WITHOUT EYE PROTECTION. YOU GOT TO TAKE CARE OF THAT BRAIN AND THOSE EYES AS MUCH AS YOU CAN. MID-OCTOBER. IT'S VERY EXCITING. THANK YOU, SIR. APPRECIATE THAT. THANK YOU FOR HANGING OUT AND JOINING US ON THE SCIENCE OF IT. OKAY. AND IF YOU WOULD LIKE TO SEE WHAT OTHER COOL STUFF WOULD BE HAPPENING AT THE ORLANDO SCIENCE
The Science Of IT: What Is A Solar Eclipse?
Eric Burris heads over to The Orlando Science Center to learn what an eclipse is…
Eric Burris heads over to The Orlando Science Center to learn what an eclipse is…